Sewage Backup Cleanup Kansas City Metro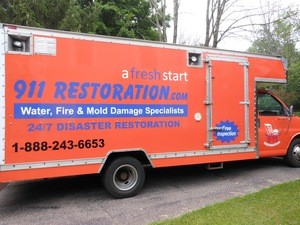 Sewage backup issues can cause significant property damage, pose immediate health risks, and are often the most stressful type of loss for home and business owners. 911 Restoration Kansas City Metro is prepared and available 24/7/365 to address these unfortunate incidents and provide customers with a Fresh Start.
A sewage backup can originate from many sources including toilet overflows due to a clogged indoor plumbing line.  It is also common for us to see municipal sewer line backups due to very heavy rain or in some cases tree roots blocking the line.
No matter where or when your sewage backup crisis occurs, it must be resolved quickly and by experts to avoid the structural damage, health repercussions, and soaring costs for repairs.
911 Restoration Kansas City Metro recognizes how emotionally difficult a sewage contamination can be for a homeowner, and we put as much emphasis on providing calm and supportive service as we do quality restoration.
The 911 Restoration Kansas City Metro team offers:
24/7/365 availability
Ability to arrive at emergency situations within 45 minutes
Same-day service
Do not delay addressing a sewage backup Kansas City situations because this can often lead to mold growth, increased health risks, and worsening odor. Call today and rely on our Kansas City team to take care of your cleanup and restoration work!
Preventing Sewage Situations
With many years of experience in the field, we can assure you that prevention is always preferred to, and less expensive than sewage backup restoration.
To help people in the Kansas City Metro area avoid this problem, we have identified a few tips that will hopefully assist property owners prevent sewage damage and minimize cost.
Never flush anything down the toilet that the system was not specifically designed to handle.
Have your plumbing system regularly inspected by a licensed and insured plumbing professional. This will help to identify many issues while they are small and allow correction before they turn into something more extensive and costly.
If you own an older home or building with large and established trees, be sure that your insurance policy covers drain backups and sump pump failure.
Call us for any sewage backup Kansas City emergency.
The Sanitation Process
In the water damage restoration industry, sewage contaminated water is referred to as Category 3 or "Black Water".  Due to the risks involved with this type of clean up, the job should be left to the professionals.
911 Restoration Kansas City Metro has a team of trained technicians that possess the skills necessary to leave your home dry and free of bacteria, mold growth, and other harmful residues. Not all sewage backup situations are the same, but our typical process follows these steps:
Apply antimicrobial disinfectant cleaner.
Extract and clean up sewage.
Remove and dispose of contaminated porous materials. In most cases this would include removal of carpet, pad, and drywall up to 2' above floor.
Clean floor.
Apply a second antimicrobial disinfectant cleaner treatment to kill any remaining microbial contaminants.
Install drying equipment and air cleaner.
Remove equipment after building materials are dry and odor is eliminated.
After the process is completed, your home will be ready for its Fresh Start!
Contact 911 Restoration Kansas City Metro today about your sewage contamination concerns!