Water Damage Restoration in Spring Hill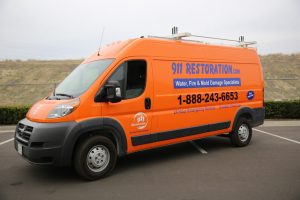 As a property owner in Spring Hill, you know that property damage comes in many forms. The most common form is water damage due to the numerous possible sources available. From a ruptured appliance hose to a pipe burst, there is no shortage of potential situations to be aware of. Regardless, the only solution when this occurs is water damage restoration. Our IICRC certified technicians are ready 24/7/365 to take care of your water damage restoration and mold remediation needs. Whether you are in Spring Hill, Garden City, or another city in the Kansas City metro area, you can count on us to arrive within 45 minutes of your call ready to get to work.
Water only needs to be around for as little as 24 hours to make a perfect breeding ground for mold. The longer this goes unchecked, the further the mold spreads. That's why water damage restoration needs to happen quickly. The quicker it's done, the less you'll need mold removal or mold decontamination services.
Call 911 Restoration if you suspect mold or notice water damage on the property. We'll be there for our Spring Hill residents in 45 minutes to get started on the Fresh Start you need.
Water Damage Repair
True water damage cleanup is an involved process with multiple steps needed to get the job done correctly. At 911 Restoration, our technicians have combined their training with their years of experience to develop and deliver a streamlined yet perfected water damage process to our Kansas City metro area customers. Our first step is always the visual inspection. This inspection allows us to take stock of how severe the water damage is and if mold has already begun growing. After the inspection, we create and action plan for your approval.
After approval, we can proceed with water extraction and drying. During this step it's all about getting the property completely dry. We accomplish this by using the latest water extraction equipment and commercial dryers. We don't believe in cutting corners or just eyeballing the affected area. That's why we use infrared cameras to detect any wet spots our eyes might have missed. In addition, this is the time when we perform the needed mold remediation services.
Once the property is dried out, it's time to look into needed repairs. We repair the source of the water damage, but we also perform other repair work such as installing new sheetrock and flooring. For us the job isn't done until the property is back to good as new.
Whether you just need a mold inspection or full water damage restoration call 911 Restoration. The key is a fast response and it doesn't get any faster than arriving within 45 minutes of your call. Don't wait to claim the Fresh Start you can depend on.
Basement Flooding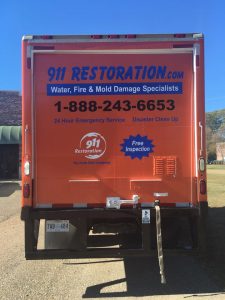 Basement flooding is the most common example of flooding property owners face. Thanks to the number of pipes running through this room, the chances of a pipe burst are quite high and results in instant flooding. When this occurs, nothing less than flood cleanup is necessary to get the property back to working order. Floodwater is also contaminated water. Anything from dirt and debris to raw waste can be present depending on the kind of pipe that bursts.
Flood cleanup is similar to our standard water damage restoration process save for one noticeable difference. We add a decontamination step to neutralize and sanitize the affected area. This makes the area safe for inhabitants after the water is removed. Once the water is removed, we perform a second decontamination process, if deemed necessary for our customer's safety or is requested.
Flooding is usually covered by insurance, which thanks to our many years of experience we are qualified to provide assistance for. We can even file a claim on your behalf if you choose to have us do so. It's just one more way we offer a comprehensive emergency restoration to our Spring Hill customers.
Call 911 Restoration for your flood cleanup or mold inspection. Get the Fresh Start you need to get back to good as new.
Servicing the cities of Archie, Baldwin City, Basehor, Belton, Blue Springs, Buckner, Bucyrus, Clay, Clearview City, Cleveland, Creighton, De Soto, Drexel, East Lynne, Easton, Edgerton, Edwardsville, Eudora, Excelsior Springs, Farley, Fontana, Fort Leavenworth, Freeman, Garden City, Gardner, Grain Valley, Grandview, Greenwood, Harrisonville, Hillsdale, Holt, Independence, Kansas City, KS, Kansas City, MO, Kearney, Lansing, Lawrence, Leavenworth, Leawood, Lecompton, Lees Summit, Lenexa, Levasy, Liberty, Lone Jack, Louisburg, Mapaville, Mission, Missouri City, Morse, Mosby, New Century, Oak Grove, Olathe, Osawatomie, Overland Park, Paola, Peculiar, Pleasant Hill, Prairie Village, Raymore, Riverside, Shawnee, Shawnee Mission, Sibley, Smithville, Spring Hill, Stilwell, Strasburg, Waldron, and surrounding areas.