Sanitization Services in Kansas City Metro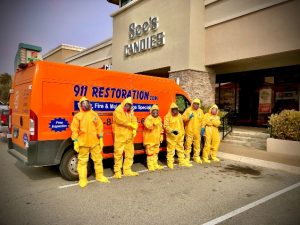 The coronavirus pandemic is currently a source of major concern in the Kansas City Metro area. This virus spreads very quickly. It can even be transmitted by people without symptoms. During this pandemic, it's very important that everyone take steps to slow the virus. You can self-isolate and practice good hygiene to do your part. You may also contact 911 Restoration of Kansas City Metro to set up sanitization services for your home or business.
The professionals at 911 Restoration of Kansas City Metro are fully prepared to clean and sanitize your property. Crews base their disinfection solutions on the guidelines of the CDC and the EPA. We follow the most-current recommendations to kill the coronavirus on surfaces in your home or business. 
You can reach out to us whenever you need help. Our sanitization specialists are on-call 24/7/365, so you don't have to wait to get the professional assistance you need. Crews have the training to take care of office deep cleaning as well as sanitization for retail stores.
Find out more about how we can help you by contacting us today. Sanitization techs can reach your property within an hour to begin assisting you. Call us at (913) 227-4578 and see how we can help.
Help Slow the Coronavirus Pandemic in Kansas City Metro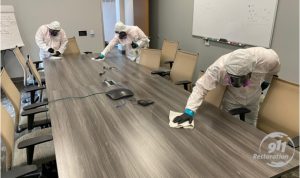 We all need to work together to slow down the spread of the coronavirus in the Kansas City Metro area. It's important to reduce the spread of the virus, because it is so infectious. If too many people become infected at one time, the hospitals could easily become overwhelmed, leading to a higher mortality rate. 
You can take proactive steps in your own life to help slow down this illness. In addition to practicing good handwashing techniques, you can stay isolated and obey any quarantine regulations issued by the local or federal government. You can also work with 911 Restoration of Kansas City Metro for help with sanitizing your property. We're here if you need disinfection solutions for your:
Businesses that is temporarily shutdown

Business that offers an essential service

Home or residence
Get in contact with us now to begin office deep cleaning and sanitization in Kansas City Metro. The coronavirus can live on surfaces for a lengthy amount of time. However, the virus can be killed with sanitization services. You can get back your peace of mind during this pandemic by reaching out to 911 Restoration of Kansas City Metro right now.