Mold Removal in Kansas City Metro
Precipitation and humidity in the Kansas City Metro area are at their highest in the summer, with June being the wettest month of the year. Humid subtropical zones create ideal environments for mold to grow, indoor, and outdoor. Owners of both residential or commercial properties are susceptible to feeling the impact of mold. When you notice signs of mold growth in your home or business, it is essential to contact 911 Restoration of Kansas City Metro immediately. Technicians will respond as quickly as possible to provide the property owner with a free visual mold inspection. Once they assess the damage, they can execute a mold restoration strategy. Call us at (913) 227-4578 and allow us to offer you a free visual inspection.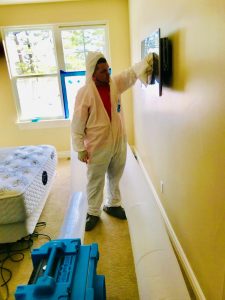 It is common for water damage to accompany mold infestations. A consistent leak or untreated flood damage can invigorate mold spores, causing them to grow within 24 hours of moisture exposure.
Leaks and floods can affect any property type. A rainwater leak into a house or basement flooding incident can affect even the most prepared property owner. By administering water restoration immediately after discovering water damage, you will minimize the extent of a mold infestation.
Customers can have total confidence in the technicians at 911 Restoration. Our water damage company hires IICRC certified professionals who are qualified to perform water restoration and mold cleanup in Kansas City Metro.
The organization is licensed, bonded, and insured to ensure that it protects every customer in full. Your wellbeing is of the utmost importance to the entire team.
Even when you take all possible precautions, there is no way to safeguard your home or business against water damage and mold altogether. 
When you need comprehensive mold restoration services, 911 Restoration of Kansas City Metro will be there to help you through the entire recovery process. So, when you need help with emergency water removal or immediate mold eradication, call the team you can trust to give you peace of mind today. Call us at (913) 227-4578 and see how we can help.
Mold Cleanup Services You Can Count On 
911 Restoration of Kansas City Metro is locally owned and operated, meaning the staff and technicians are all part of the community and understand the specific issues that affect the area.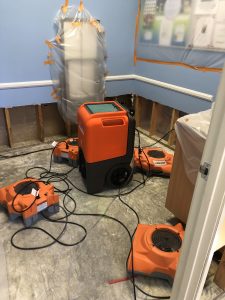 Technicians are always ready to respond to calls reporting mold infestations. The quicker they conduct the mold restoration, the better the chances are of sustaining your property and keeping your health intact.
911 Restoration integrates comprehensive services into its mold restoration agenda. Customers can rely on the repair techs to arrive quickly to repair and remediate mold and water damage issues. 
You can expect the experts to implement a mold removal strategy that will address every problem they encounter. They will extract floodwater, use fans to dry out water damage, and conduct mold decontamination services.
If we discover mold growing in walls, technicians will remove water restoration Kansas City on sheetrock and promptly replace the wall material. If a leaky pipe is the source of a mold colony in your bathroom, then they will repair the plumbing issue to prevent future infestations.
There is no reason that you need to be living among mold in your home or business. Call 911 Restoration of Kansas City Metro the moment you notice signs of mold or water damage in your property. Quick reporting will allow us to begin the restoration process right away. Call us at (913) 227-4578.
Stagnant Water In Crawlspaces And Basements Will Quickly Lead To Mold
The basement and crawlspace is an area of the property that is particularly susceptible to becoming affected by water damage and overgrown with mold.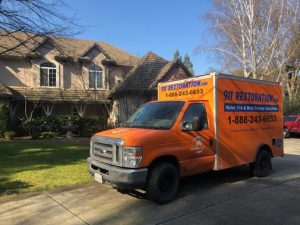 A house flood, wet crawlspace, or basement flooding incident can quickly start a mold infestation. The conditions in these spaces tend to be damp, warm, and dark. If any extra moisture is added to the situation, then it is almost impossible to prevent mold from growing.
When mold presents itself in the basement, or anywhere else in the property for that matter, repair workers will execute expert mold restoration in Kansas City Metro. Professional services are the best way to eradicate the problem. 
It can be difficult for the untrained eye to remove all the spores in the area, but our professionals know how to contain an infestation. Not only will they remove the growth, but they will set up preventative measures to stop future infestations.
Along with thorough mold cleanup services, the technicians will conduct water clean up in basements, since unmitigated floods and leaks typically cause mold in the first place.
When any part of the property requires flood damage cleanup, it is vital to the repair process to get the space as dry as possible. Technicians will remove any lingering moisture with the implementation of air movers and dehumidifiers.
Thorough mold remediation techniques, 911 Restoration of Kansas City Metro can give you peace of mind knowing that your property will once again be a safe, clean space for you and your family.
So, call the team that cares and understands what you need from a restoration company today. Technicians will perform water and mold cleanup services to give you the Fresh Start you need after a mold infestation.

Serving the communities of Archie, Baldwin City, Basehor, Belton, Blue Springs, Buckner, Bucyrus, Clearview City, Cleveland, Creighton, Drexel, East Lynne, Edwardsville, Garden City, Kansas City, KS, Kansas City, MO, Lees Summit, Lenexa, Mapaville, Morse, Olathe, Overland Park, Shawnee and surrounding areas