Water Damage Restoration in Belton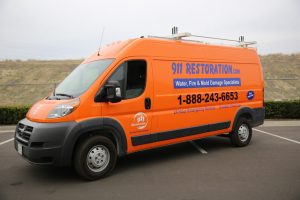 Imagine a pipe bursts on your property in Blue Springs. Would you know what to do next? The truth is that the best thing you can do for your property is to call the water damage specialists at 911 Restoration of Kansas City. The technicians are all IICRC certified with years of experience, so you know you can trust them to get your property back to the normal state. All calls for water remediation services are responded to within 45 minutes, and the technicians are available 24/7/365. You will never be kept waiting for important water damage restoration services. Do the right thing for the future of your property in Shawnee and call the water removal specialists at 911 Restoration of Kansas City.

Flood Cleanup After a Burst Pipe
Living in Buckner, property owners are familiar with the conditions that can cause a flooded basement. Whether it's natural causes such as heavy winds and rain or simply a plumbing failure, there are a few steps that you can take to prevent a future burst pipe on the property. For starters, having a plumber out to regularly inspect the property can help save you in the future. In addition, take special care to not flush things that shouldn't be in the pipes, such as cotton swabs. This will help a great deal to prevent a flooded basement.

If the worst has already happened and there is water in the crawl space, there is no need to be concerned. A common question from our customers is whether or not water remediations are covered by property insurance. The truth is that 911 Restoration of Kansas City works with all insurance companies, and even works with you to find the best place. A free visual inspection for property owners only is even offered. Their end goal is to ensure that you end up paying as little out of pocket as possible for timely water removal services.

The highly trained technicians offer a wide variety of emergency restoration services when you need it most. They'll make sure to offer emergency boarding services, so your precious belongings will stay safe and dry from the water damage. In addition, emergency roof repairs and storage services are offered. You'll be able to count on the team when you need it most during the flood cleanup process.

The flood cleanup technicians understand that a burst pipe is a difficult time, so they do everything in their part to operate with an optimistic attitude. The whole water removal team believes in a Fresh Start attitude after a flooded basement, and both you and your property will be treated to it. Call 911 Restoration of Kansas City for your own Fresh Start today.

Mold Removal Services You Can Count On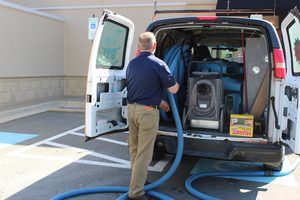 After noticing water in the crawl space or a flooded basement, it's important to take care to also inspect for mold. Mold may be the last thing on your mind after a water damage emergency, but the truth is that it can arise on the property less than 24 hours after a burst pipe. Do the right thing for your property and call the decontamination technicians at 911 Restoration of Kansas City.

Mold on the ceiling after a burst pipe is most commonly referred to as "popcorn ceiling". These spores thrive in any dark, damp environment. However, there is no need to be concerned. Simply call upon the mold removal technicians with years of experience. These use hazmat suits and infrared technology to remove as many of the spores as possible.

The mold removal techs not only care about your property, they care about your health as well. They're aware that mold left on the property in Archie can cause unpleasant symptoms such as coughing, sneezing or even bad headaches. That's why they go above and beyond to arrive on the scene for a deconomination as soon as possible.

Mold on the property in Holt can be overwhelming, which is why the techs do such a diligent job in removing it. The mold remediation will go above and beyond and include services such as structural dehumidifying and drying. Your property will be clean and dry after the remediation.

If you need a mold decontamination after a burst pipe, call the technicians at 911 Restoration of Kansas City. You'll receive a Fresh Start for both you and your property.

Servicing the areas of Archie, Baldwin City, Basehor, Belton, Blue Springs, Buckner, Bucyrus, Clay, Clearview City, Cleveland, Creighton, De Soto, Drexel, East Lynne, Easton, Edgerton, Edwardsville, Eudora, Excelsior Springs, Farley, Fontana, Fort Leavenworth, Freeman, Garden City, Gardner, Grain Valley, Grandview, Greenwood, Harrisonville, Hillsdale, Holt, Independence, Kansas City, KS, Kansas City, MO, Kearney, Lansing, Lawrence, Leavenworth, Leawood, Lecompton, Lees Summit, Lenexa, Levasy, Liberty, Lone Jack, Louisburg, Mapaville, Mission, Missouri City, Morse, Mosby, New Century, Oak Grove, Olathe, Osawatomie, Overland Park, Paola, Peculiar, Pleasant Hill, Prairie Village, Raymore, Riverside, Shawnee, Shawnee Mission, Sibley, Smithville, Spring Hill, Stilwell, Strasburg, Waldron and surrounding areas.