Water Damage and Mold Removal Kansas City
Imagine gallons of water gushing towards your brand new Kansas City property. The carpets soaked with water, burst pipes, flooding in the basement, and newly painted walls stained from the inside out. No property owner invites or expects a water disaster to come to their estate.
Water damage is one of the leading causes of disasters for property owners in Kansas City. And if left untreated, more serious problems like mold damage can arise. Both these issues are tricky situations to be left with. Like water, mold also hides in tight spaces you'd never expect the culprit to hide in. This is why it's advised you hire a restoration expert for water damage or mold inspection.
You can rely on the friendly staff at 911 Restoration of Kansas City Metro to tackle any of your restoration needs. Located in Kansas City, we cover all cities within the metropolitan area including parts of Missouri. In fact, it's how we guarantee a 45-minute or less arrival time because we're only within reach. Call us at (913) 227-4578 and allow us to offer you a free visual inspection.
We understand there's more to property disasters than water damage and mold remediation alone. Other restoration services 911 Restoration of Kansas City Metro specializes in are:
Smoke & fire removal

Sewage backup cleanup

Commercial property restoration

Emergency service cleanup

Disaster restoration
And because every customer's situation is unique, means a wholesome experience tailored to your needs. Call us at (913) 227-4578 and see how we can help.

Water Damage Restoration With a Fresh Start in Kansas City
Dealing with water damage leaks and flooding is the last thing any Kansas City property owner wants to deal with. We understand how overwhelming the experience can be. But it doesn't have to be a situation that drowns you in your thoughts.
We believe each customer we work with deserves a second chance with a Fresh Start promise. 
What's included in our Fresh Start delivery?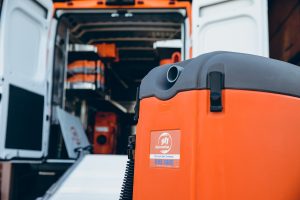 A water restoration company in Kansas City you can rely on 24/7/365 days a year

A 45-minute guarantee with every call you make

IICRC-certified staff who deliver you the service on par with the highest standards

The use of the most advanced technology and equipment to restore your property quick

A seamless and worry-free restoration experience
We mean it when we say every customer we work with gets a Fresh Start. In fact, you won't have to deal with your insurance company once during any moment you work with us. We bill and work with your insurance carrier directly so you don't have to. So no more long wait times and annoying back and forth calls you always dreaded.
And if there's any moment you feel we're not meeting your expectations with our Fresh Start guarantee – let us know. The last thing we'd want is any customer feeling like they're not getting what they paid for.
So business owners and property owners in Kansas City can have peace of mind knowing we have their back. Because everyone is deserving of living in a safe and healthy space.
Call us today for a free property inspection and we'll be there within the next 45- minutes.
A Fresh Start is only within reach! Call us at (913) 227-4578.