Water Damage Kansas City Metro
911 Restoration Kansas City Metro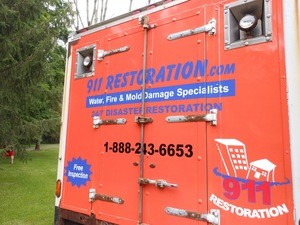 911 Restoration Kansas City Metro is a locally-owned and operated water damage restoration company. We bring more than 30 years of restoration, construction, and environmental experience to every job, in addition to the fresh start attitude. Whether water damage, mold contamination, sewage backup, or natural disasters cause property damage, our IICRC Certified Firm is here to assist.
Bringing talent and knowledge to each job is as crucial as quick timing. 911 Restoration prides itself on a 45 minute response time and same day service we provide to each emergency dispatch call. Your fresh start begins when you call our water damage Kansas City company!
Beyond a truly fast response time, the experts with 911 Restoration Kansas City Metro are always available 24/7/365 to take on any form of disaster that a homeowner may encounter. Our ability to arrive early and give the most professional and high quality restoration work possible is combined with exceptional customer service from start to finish.
If your home is experiencing water damage in the Kansas City area, and you want it handled by experts who will always put your needs as priority number one, then contact 911 Restoration of Kansas City Metro today! You can count on us being there to restore your peace of mind the same way that we restore your home or business.
Water Damage Restoration
Taking on the challenges presented by a water damage situation is daily bread and butter for the staff at 911 Restoration Kansas City Metro. Our licensed, and insured technicians will work day and night to mitigate damages that may result from your water loss.
Acting quickly when it comes to a water damage crisis is absolutely necessary for saving the home or business from increased loss and added costs. Studies have shown that home and business floods addressed within 48 hours are far less likely to result in mold and mildew problems later. Water damage cleanup, water extraction, and structural drying that occurs even sooner than that is proven to help significantly reduce water damage restoration costs and further minimize property damage.
Prompt action from the water damage Kansas City professionals at 911 Restoration  involves utilizing air movers, dehumidifiers, hardwood floor mat drying systems, and other specialty equipment to restore your property to its pre-loss condition. Call (913) 227-4578 or (816) 533-3072 as soon as you discover your water damage situation to schedule a free damage inspection.
Sewage Backup Cleanup
Sewage backup is a serious issue, and it should only be dealt with by IICRC certified professionals. This type of water can carry bacteria and viruses that may lead to significant health issues. Our 911 Restoration Kansas City Metro team is not only trained to handle the cleanup, but is also experienced at minimizing the shock and emotional trauma which often accompany this type of water damage.
Not all water is created equal! Category 1 water is slightly less clean than water emerging from the tap. Homeowners should still contact a service expert because even this "clean" water can result in mold growth if not properly extracted and thoroughly dried.
Category 2, "Gray" water is often found in ground water situations and is many times the result of a sump pump failure. This type of water is not as dangerous as sewage water, but can still carry harmful contaminants.
Category 3, "Black" water contains raw sewage contamination. It primarily results from toilet overflows or sewer line backups. Individuals without proper protection should avoid contact with this type of water.
Both Category 2 (Gray) and Category 3 (Black) water situations should absolutely be dealt with by experts to avoid disease, prevent further contamination of the home or business, and ensure thorough drying.
Disaster Restoration
Fastidiously taking on the challenges of any kind of disaster is key to alleviating the effects of such situations. Be it a tornado, a severe storm and accompanying rain, or even a localized flooding scenario, 911 Restoration Kansas City Metro is prepared for it all.
Disaster restoration, no matter what form it takes, can take a toll on anyone who encounters this situation. For this reason, we work with home and business owners to provide the most affordable price possible for any job we accept. If your home or business is in the midst of any kind of water damage or other disaster, then don't hesitate to contact 911 Restoration Kansas City Metro!
Fire Damage Repair
The water damage Kansas City disaster team also excels in fire damage restoration. In addition to damage caused directly from a fire, there is also secondary water damage that remains after the fire is extinguished.
Our 911 Restoration Kansas City Metro professionals will strive to ensure that your property receives a Fresh Start!
Mold Removal
With many years of field experience, the water damage Kansas City technicians at 911 Restoration have seen almost every kind of mold that can form in a home or business.
Removing mold properly takes not only the skill and knowledge of a restoration expert, but also the proper tools and equipment to contain the damage. Our Kansas City water damage professionals create negative air pressure in the affected area so that fresh air flows into the contaminated air. This expertise is the result of thousands of hours in the field dealing with similar situations, and experience implementing IICRC mold removal techniques, which is why you want to choose 911 Restoration Kansas City Metro.