Water Damage Restoration in Kansas City, MO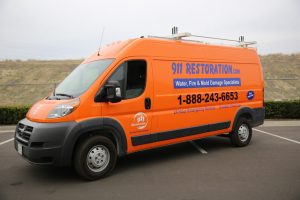 Residents of the Midwest are the conditions that can cause damage to the property. Whether it's tropical storms or heavy rains, it's best to take care of your property with the water removal techs that put your needs first. If you are experiencing a burst pipe or flooded basement in the Belton area, do the best thing and call 911 Restoration of Kansas City. The technicians respond to all flood cleanup calls within 45 minutes, so you can expect timely water restoration services. In addition, they are available around the clock, so you never will be kept waiting. Treat both you and your property to the signature Fresh Start service and contact 911 Restoration of Kansas City today. Call us at (913) 227-4578 and allow us to offer you a free visual inspection.
Water Remediation When You Need It Most
It's only natural to become frightened when your basement is flooded in the Blue Springs area. Whether it's caused by a sewage backup or a burst pipe, it can spill dirty water into places that you thought were hidden on the property. There is no need to be concerned though, as the technicians are all licensed, certified and bonded. They will get your property back to tip-top shape in no time.

There are all types of water damage emergencies that can be cause for flood cleanup on the property. Whether it's an ice dam or frozen pipe, the excess water can still spill into your property when you least expect it. A common question is what kind of emergency restoration services the techs offer. The good news is that the technicians offer all types of water remediation services, so your property will be up and running in no time. In addition, both residential and commercial properties are serviced.

There are many benefits to choosing 911 Restoration of Kansas City for your flood cleanup needs. For starters, the techs are calm and understanding to what you're going through. They have years of experience in water removal, so you can feel comfortable leaving your crawl space cleanup in their hands.

In addition to providing a calm and optimistic manner, the techs offer plenty of emergency restoration services. For example, emergency roof repairs and boarding up services are offered. A complete water extraction, drying and dehumidifying service is also offered.

When you need water damage restoration after a burst pipe, look no further. Simply call the techs that have your back in all flood cleanups. Whether you need your carpet removed in your basement or your crawl space inspected, they have it covered. Contact 911 Restoration of Kansas City for quality water removal services today. Call us at (913) 227-4578 and see how we can help.

Removing Mold In a Timely Matter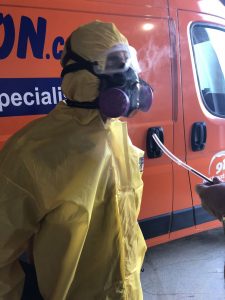 The last thing any property owner in the Baldwin City area wants to worry about is mold. It can seem like any property owner's worst nightmare. The truth is, mold is simply a bump in the road when you call the right mold removal technicians. 911 Restoration of Kansas City will be out on the scene for a prompt mold decontamination before you know it.
If you spot mold in the bathroom or shower in the Belton area, do not be alarmed. Additionally, it's important to not try to remove the mold on your own. The remediation techs in the area will take care of that. Trying to scrub to remove the mold on your own can only make the problem worse, and deteriorate your property further.

Mold is not only difficult to look at, but it's bad for your health as well. Leaving spores on the property can cause asthma, allergies, or bad headaches. If you are experiencing a cough or sneezing after spotting mold on the property in Blue Springs, call the techs for an inspection today. In some inspections, third-party testing will even be used to get the best read for your property.

If mold remediation seems like a cost that you can't take on at this time, there is no need to be concerned. Not only do the techs accept all forms of insurance, they even offer a free visual inspection for property owners only. Their goal is that you pay as little out of pocket for removal services as possible.

If you want a mold inspection where the mold removal techs really care about you, look no further. The deconomination techs go above and beyond to make sure you and your property are safe during the entire remediation. They will even pack up your unharmed belongings and place them to the side to ensure that they remain that way. For your own Fresh Start mold decontamination, call 911 Restoration of Kansas City today at (913) 227-4578.

Servicing the areas of Archie, Baldwin City, Basehor, Belton, Blue Springs, Buckner, Bucyrus, Clay, Clearview City, Cleveland, Creighton, De Soto, Drexel, East Lynne, Easton, Edgerton, Edwardsville, Eudora, Excelsior Springs, Farley, Fontana, Fort Leavenworth, Freeman, Garden City, Gardner, Grain Valley, Grandview, Greenwood, Harrisonville, Hillsdale, Holt, Independence, Kansas City, KS, Kansas City, MO, Kearney, Lansing, Lawrence, Leavenworth, Leawood, Lecompton, Lees Summit, Lenexa, Levasy, Liberty, Lone Jack, Louisburg, Mapaville, Mission, Missouri City, Morse, Mosby, New Century, Oak Grove, Olathe, Osawatomie, Overland Park, Paola, Peculiar, Pleasant Hill, Prairie Village, Raymore, Riverside, Shawnee, Shawnee Mission, Sibley, Smithville, Spring Hill, Stilwell, Strasburg, Waldron and surrounding areas.