Water Damage and Mold Removal in Lee's Summit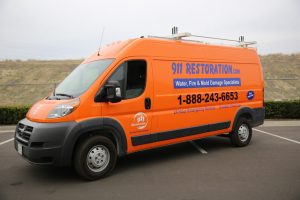 A tornado, heavy winds, or rain is one of the last things that any property owner in Raymore wants to deal with. But the truth is, these are some of the natural disasters that are common in the area. If a frozen pipe bursts on your property and results in a flooded basement, do not delay. Simply call 911 Restoration of Kansas City for a complete property restoration. A free visual inspection for property owners is even offered. The technicians are IICRC certified with years of experience, and believe in a Fresh Start for both you and your property. For water remediation services, all calls are responded to within 45 minutes. For a Fresh Start after any water damage emergency, contact 911 Restoration of Kansas City today.

Water Removal After A Burst Pipe
A burst pipe may seem like a disaster, but the truth is that it's easy to avoid with a little prevention. For starters, make sure not to flush anything down the toilet that is not meant to be flushed. A good example of this is cotton swabs as they will clog the plumbing. In addition, have a plumber out to regularly inspect the property and ensure everything is in working order. WIth a little prevention, a burst pipe will be the least of your concerns.

If the heavy rains impact your property and you do have a flooded basement, do not be concerned. The remediation techs are licensed, certified and bonded. They will go above and beyond to ensure that your property is safe from any water damage. In addition, structural dehumidifying and drying services will be offered. Your property will be clean and dry from top to bottom.

No matter the water damage emergency, you can trust the techs to handle it. The water removal techs in Lees Summit are trained in all types of restorations, from black water cleanup to mildew deodorization. Sewage backup cleanup is also offered in certain water cleanups. If you are experiencing a flooded basement or crawl space, the techs can take care of it in no time.

Water damage emergencies can be costly, but they don't have to be. 911 Restoration of Kansas City Metro bills your insurance company, and works to ensure that you pay as little out of pocket as possible. This flood cleanup will not be the end of your property, it will simply be the opportunity for a Fresh Start.

Floods on the property can happen at any time, but the techs are available 24/7 for any flood cleanup calls. Do the right thing for both you and your property and treat yourself to a Fresh Start remediation. 911 Restoration of Kansas City is here for all of your water extraction needs after any burst pipe.

Mold Extraction That Goes Above and Beyond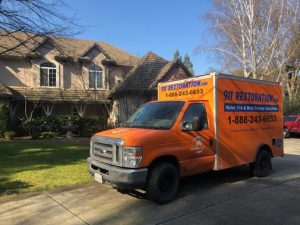 A burst pipe on the property can cause more damage than intended. After the water damage repair is carried out, it's important to search for any lingering mold. The spores can easily thrive in damp areas with moisture, such as the shower or in the crawl spaces. If you have spotted mold in the basement in Belton, contact our removal techs today.

The removal techs take mold removal extremely seriously. Not only can mold be hazardous to your property, it can be detrimental to your health as well. Mold can cause health issues such as asthma, allergies, or even bad headaches. If you have started to experience any of these, do the right thing and call for a deconomination today.

A house flooding can be difficult on both you and your property. While our mold removal services are prompt, we also understand your needs during the remediation process. We understand how difficult mold inspection can be for property owners, and put your needs first. The customer comes first in all remediations, and you will be treated with an optimistic attitude.
The remediation techs carry out any inspection with utmost professionalism. In some instances, third-party laboratory testing is used to get the most accurate reading possible. Both commercial and residential mold removal services are offered, so no matter what you will be treated to a quality deconomination. 
Servicing the areas of Archie, Baldwin City, Basehor, Belton, Blue Springs, Buckner, Bucyrus, Clay, Clearview City, Cleveland, Creighton, De Soto, Drexel, East Lynne, Easton, Edgerton, Edwardsville, Eudora, Excelsior Springs, Farley, Fontana, Fort Leavenworth, Freeman, Garden City, Gardner, Grain Valley, Grandview, Greenwood, Harrisonville, Hillsdale, Holt, Independence, Kansas City, KS, Kansas City, MO, Kearney, Lansing, Lawrence, Leavenworth, Leawood, Lecompton, Lees Summit, Lenexa, Levasy, Liberty, Lone Jack, Louisburg, Mapaville, Mission, Missouri City, Morse, Mosby, New Century, Oak Grove, Olathe, Osawatomie, Overland Park, Paola, Peculiar, Pleasant Hill, Prairie Village, Raymore, Riverside, Shawnee, Shawnee Mission, Sibley, Smithville, Spring Hill, Stilwell, Strasburg, Waldron and surrounding areas.