Mold Removal in Shawnee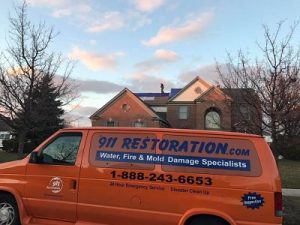 As a property owner in Shawnee, you're familiar with multiple types of property damage, but more than likely struggle with handling a mold infestation effectively. Mold grows over time and slowly eats away at the organic materials within the property. Everything from the walls to the furniture are susceptible to mold. In addition, mold can cause health issues in otherwise healthy people making it even more troublesome to deal with. Our IICRC certified technicians are ready 24/7/365 to handle all aspects of your mold remediation from mold inspection to mold decontamination and removal. Whether you live in Shawnee or another city in the Kansas City metro area, you can count on us to arrive within 45 minutes to begin your mold removal. Call us at (913) 227-4578 and allow us to offer you a free visual inspection.

Understanding the signs of a mold infestation is the first step to staying ahead of this problem. The most common signs of mold contamination are:
Rotting wood

Crumbled drywall

Visible mold

Breathing problems

Headaches

Persistent cough

Stale odor
It may be tempting to attempt to clean the mold yourself especially when it seems to be only a little amount. However, mold can't be eliminated through regular cleaning methods. In fact, the only thing that happens is agitated mold spores that become airborne. Once airborne, the spores can spread to other areas of the property and start new mold colonies. The only effective and permanent solution is professional mold remediation.
If you suspect or observe mold on the property, don't wait to call 911 Restoration. We'll take care of everything during the mold removal process. Get the Fresh Start you need to begin anew. Call us at (913) 227-4578 and see how we can help.

Mold Removal Companies
Mold removal companies are needed to handle your mold remediation. However, there is a big difference between getting the job done and getting the job done correctly. Our IICRC certified technicians have combined their years of experience and training to develop and execute a perfected mold remediation process that accounts for everything from mold inspection to mold cleanup for our Shawnee residents.
Every time without fail, our first step upon arrival is the visual mold inspection. During the inspection, we assess the level of damage to the property, the spread of the mold contamination, and how to proceed in the most efficient manner possible. Once this is sone, we can develop an action plan tailored to your unique needs.
Our actual mold remediation process can be summed up with three basic steps, which are containment, decontamination, and removal. We use the latest containment measures including vapor barriers to prevent the mold from spreading. Once contained, we use industrial cleaners during our mold decontamination to kill the mold spores. After they are neutralized, we can proceed with the actual mold removal.
Whether you need mold cleanup or full mold remediation the first step is to call 911 Restoration. For our Kansas City metro area customers, we'll be there within 45 minutes to start working on your Fresh Start. Call us at (913) 227-4578.
Mold In Basement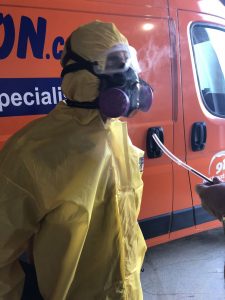 Next to the attic, the basement is the most common room for mold to grow in. The basement is dark and prone to dampness thanks to the pipes running through the room. Anything from a small leak to full pipe burst can result in enough moisture for mold in the basement to be a legitimate problem. Just like in any other mold situation the only solution is mold remediation and mold cleanup.
Mold can become toxic if exposed to contaminants or left to grow for a long period of time. Toxic mold can cause severe health problems that include organ shutdown and even death for some people. If you suspect toxic mold, we offer mold testing services so that the possibility can be ruled out or verified. 
The key to eliminating toxic mold safely is through the use of protective hazmat gear and a two-phase mold decontamination. The initial decontamination we always do, and then a second mold decontamination to ensure not a single toxic spore is left alive before we finish our mold removal and water damage restoration process.
Call 911 Restoration if you suspect mold or need a mold inspection at (913) 227-4578. We'll be there within 45 minutes to deliver a Fresh Start that has you breathing easier.
Servicing the cities of Archie, Baldwin City, Basehor, Belton, Blue Springs, Bonner Springs, Buckner, Bucyrus, Camden Point, Clay, Clearview City, Cleveland, Creighton, De Soto, Dearborn, Drexel, East Lynne, Easton, Edgerton, Edwardsville, Eudora, Excelsior Springs, Farley, Fontana, Fort Leavenworth, Freeman, Garden City, Gardner, Grain Valley, Grandview, Greenwood, Harrisonville, Hillsdale, Holt, Independence, Kansas City, KS, Kansas City, MO, Kearney, Lansing, Lawrence, Leavenworth, Leawood, Lecompton, Lees Summit, Lenexa, Levasy, Liberty, Linwood, Lone Jack, Louisburg, Mapaville, Mission, Missouri City, Morse, Mosby, New Century, Oak Grove, Olathe, Osawatomie, Overland Park, Paola, Peculiar, Platte City, Pleasant Hill, Prairie Village, Raymore, Riverside, Shawnee, Shawnee Mission, Sibley, Smithville, Spring Hill, Stilwell, Strasburg, Tonganoxie, Waldron, Weston, and surrounding areas.