Mold Removal in Kansas City, MO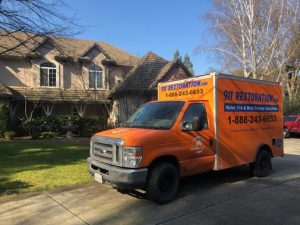 Property owners in Kansas City, MO are familiar with property damage. One of the hardest to guard against is mold. Mold eats away at the organic items within the property such as sheetrock, carpet, and clothing. It also causes health issues in otherwise healthy individuals. That's why our IICRC certified technicians are ready 24/7/365 to handle your mold remediation. No matter where in Kansas City, MO you reside, you can count on us to arrive within 45 minutes after receiving your call ready to begin the mold removal process. Call us at (913) 227-4578 and allow us to offer you a free visual inspection.

While mold can be difficult to detect, it's actually simple to do once you know the common signs of a mold infestation. These signs include:
Rotting wood

Crumbled drywall

Visible mold

Breathing problems

Headaches

Persistent cough

Stale odor
It's important to remember that cleaning the mold yourself is never advisable. Regular cleaners and methods only agitate the mold spores, which would be ok if not for the fact that mold spores become airborne once agitated. These spores spread and colonize new areas on the property making an already complicated problem a larger one. Full mold remediation done by professionals like the technicians at 911 Restoration is the only viable solution available to Kansas City, MO residents.
Whether it's a mold inspection or full mold removal the first step is to call 911 Restoration. Call today to get a jump on your mold remediation. Claim the Fresh Start you deserve. Call us at (913) 227-4578 and see how we can help.

Mold Removal
Mold removal can be done or it can be done correctly. A successful mold removal requires a coordinated effort by trained professionals. Our technicians at 911 Restoration work to provide the best mold removal services possible by combining their years of experience with their training to deliver a perfected yet streamlined mold decontamination and removal process. Everything from mold inspection mold removal is taken care of with 911 Restoration.
We don't get to work until we have completed our visual mold inspection. This inspection is what allows us to understand how far the mold has spread and what's needed to contain and remove the mold so the property can be good as new. After the inspection, we can develop our plan of attack and then execute the plan by proceeding to the next step.
With mold, containment is the secret to successful mold removal. Containment is possible when using the latest containment measures, which includes vapor barriers. With nowhere to go, it's safe to begin mold decontamination. Mold is alive and wants to resist removal efforts. We work around that by neutralizing the mold spores with industrial cleaners and detergents. Once neutralized, we can proceed with the mold removal itself. During this process, we perform any necessary water damage restoration services to dry out the property and prevent the mold from reoccurring.
If you need a mold inspection or mold remediation, don't hesitate to call the technicians at 911 Restoration. We'll be there within 45 minutes for our Kansas City metro area customers to deliver a much-needed Fresh Start. Call us at (913) 227-4578.
Mold In Basement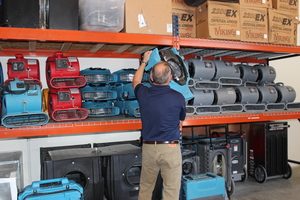 Mold in the basement is a common problem for owners due to its naturally dark and damp environment. With all of the pipes running through the basement, there are numerous opportunities for a leaky pipe or a burst pipe to release water into the room.The longer this goes on, the greater the need for mold remediation services.
If given enough time or access to contaminants like debris or raw waste, mold can become toxic mold. Toxic mold is a serious problem for residents thanks to the possibility of organ shutdown and even death if left unchecked for too long. If toxic mold is suspected, we offer mold testing and sampling services to verify or rule out the possibility.
Call 911 Restoration for your mold inspection or mold remediation needs. Don't wait to get the Fresh Start that has you breathing easier. Call us at (913) 227-4578.

Servicing the cities of Archie, Baldwin City, Basehor, Belton, Blue Springs, Bonner Springs, Buckner, Bucyrus, Camden Point, Clay, Clearview City, Cleveland, Creighton, De Soto, Dearborn, Drexel, East Lynne, Easton, Edgerton, Edwardsville, Eudora, Excelsior Springs, Farley, Fontana, Fort Leavenworth, Freeman, Garden City, Gardner, Grain Valley, Grandview, Greenwood, Harrisonville, Hillsdale, Holt, Independence, Kansas City, KS, Kansas City, MO, Kearney, Lansing, Lawrence, Leavenworth, Leawood, Lecompton, Lees Summit, Lenexa, Levasy, Liberty, Linwood, Lone Jack, Louisburg, Mapaville, Mission, Missouri City, Morse, Mosby, New Century, Oak Grove, Olathe, Osawatomie, Overland Park, Paola, Peculiar, Platte City, Pleasant Hill, Prairie Village, Raymore, Riverside, Shawnee, Shawnee Mission, Sibley, Smithville, Spring Hill, Stilwell, Strasburg, Tonganoxie, Waldron, Weston, and surrounding areas.