Mold Removal and Water Damage Restoration in Clearview City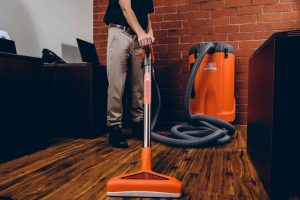 Because you own property in Clearview City, you know tornadoes, heavy rain and snow, and humidity all put your building at risk. When extreme weather leaves you with property damage, repairs can be frustrating to navigate. You worry about how much it's going to cost and how long it will take. 
When you need commercial restoration or home repairs after a disaster, you need fast and effective service that won't cost a fortune. You need certified mold remediation and water extraction from one company. You need our experienced professionals at 911 Restoration of Kansas City Metro. 
As a national brand, we have over 30 years of experience with fire cleanup, mold remediation, water removal, and so much more. All of our technicians at 911 Restoration are EPA and IICRC certified. We're open 24/7/365 to handle any type of property damage, any time of day. Our Kansas City branch is locally operated, so we understand the needs of Clearview City business and homeowners just like you. We put the customer first by offering free visual inspection (for property owners only). We also promise a 45 minute arrival after your first call to us.
Whether you need water extraction after flooding, soot cleanup after a fire, or mold removal, we do it all. When an accident or emergency leaves you with property damage, don't wait. Give us a call to get full service-restoration any time of day.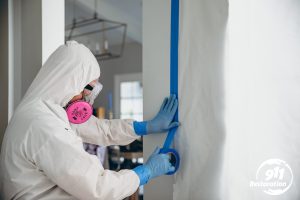 The Best Disaster Restoration in Clearview
No matter what type of water damage you have, our expert workers in Kansas City Metro will handle your restoration. When you need water extraction after a sewage backup, our friendly staff takes care of it. When your property needs dehumidifying after a pipe bursts, our professional equipment will have it clean and dry in no time. If heavy rain damages your roof, we repair it, fix the leak, and remove any excess water from your facility.
We also have certified mold experts who do inspection and testing with third party laboratories. If you have a mold infestation, we guarantee an effective remediation of your property. We also offer professional disinfection of all affected areas. When you need cleanup after water, fire, or mold enters your building in Clearview, don't try to handle restoration alone. Call our experienced technicians at 911 Restoration of Kansas City Metro.
We Put the Customer First after a Difficult Time
Water damage and mold are stressful enough, but fires can be some of the worst experiences for owners. Fires don't just damage properties; they destroy lives.  After such a traumatic event, you shouldn't have to face fire remediation alone. 
If your home or business is affected by a fire, our compassionate staff is here to oversee restoration. We offer full-service fire removal, from smoke remediation to puffback cleanup. By offering complete disaster restoration, we give you and your property the fresh start it needs. To get your building and your life back after a disaster, call 911 Restoration today.