Water Damage Restoration and Mold Removal in Buckner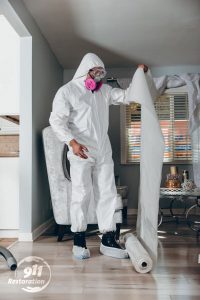 No matter what kind of property you own, you never want to see it damaged. Unfortunately, your property in Buckner is vulnerable to tornadoes, floods, and other weather-related emergencies. On top of that, your property could encounter a sewage backup or need mold decontamination when you least expect it. 
Accidents and emergencies derail the hard work you've done to create a safe, successful environment. Repairs can cost you a fortune, take months to complete, and create unnecessary problems for you, not to mention your family or business.
Thankfully, you don't have to face restoration alone. When your home or business has water damage, fire damage, or needs mold remediation, call our friendly experts at 911 Restoration of Kansas City Metro. With over 30 years experience, we've earned the trust of property owners across the country. Because each of our branches is locally owned and operated, our Kansas City Metro branch understands the unique challenges you face as a property owner in Buckner. We even offer free visual inspection for property owners only.
We're open 24/7/365, because we know time is money, especially when it comes to property damage. We promise a 45 minute ETA from one of our skilled technicians as soon as you contact us. Our IICRC certified staff is prepared to handle any type of property or problem, so don't wait. Call our experienced team at 911 Restoration today.
Disaster Restoration from Experts You Can Trust
Whether it's a burst pipe, heavy rains, or a malfunctioning appliance, water does significant damage to your property in a short amount of time. That's why our professionals offer same day service, saving you time and money. After we contain the problem at the source, we take care of removal and cleanup, whether it's mold, water, or fire damage.
Emergencies don't just threaten the structural integrity of your property. They also affect the valuable items and furniture inside. That's why we offer moving and storage. We also repair any damaged building materials. 
If you recently experienced water damage and you're worried about a mold infestation, one of our specialists provides testing, in addition to water extraction and cleanup. We guarantee successful mold removal from your property, so you won't have to worry about the long term effects of water damage. Whether you need water clean up service or a certified mold remediation company, give us a call today.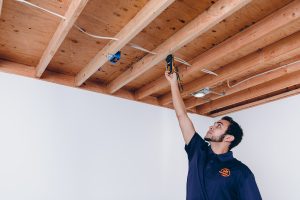 You Don't Have to Face Fire Damage Alone
When your property experiences a fire, it's terrifying and upsetting for everyone involved. For you as the property owner, the aftermath can be overwhelming. You need a professional to oversee fire damage restoration, so you can focus on getting your life back to normal. That's why we handle soot cleanup, smoke removal, and every aspect of fire cleanup using only the latest equipment and highest industry standards.
Every member of our staff is prepared for the most difficult types of situations. We understand what you've been through, and we're here to treat your property like it's our own. In addition to free insurance consultations, we offer full-service fire remediation, because no property owner should have to deal with that alone. To give your property the fresh start it deserves, call 911 Restoration of Kansas City Metro today.