Mold Removal in Kansas City, KS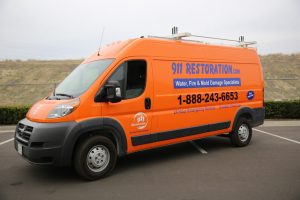 Property owners in Kansas City know that one of the trickiest and most frustrating forms of property damage is mold. A mold contamination means that everything organic is at risk. Sheetrock, carpet fibers, furniture, and even clothing are susceptible to the ravages of mold. In addition, mold can also cause health issues in people who are otherwise healthy. For these reasons, our IICRC certified technicians are ready 24/7/365 to handle your mold remediation and mold decontamination. Residents in Kansas City and surrounding cities in the metro area can count on us to arrive within 45 minutes of receiving their call ready to get to work. Call us at (913) 227-4578 and allow us to offer you a free visual inspection.

It's much easier to remain vigilant against mold once the signs of mold are known. Common signs of mold contamination include:
Rotting wood

Crumbled drywall

Visible mold

Breathing problems

Headaches

Persistent cough

Stale odor
Remember not to try to clean the mold yourself. Normal methods and cleaners only serve to agitate the mold spores. Agitated mold spores can become airborne, which allows them to spread past the point of origin making a bigger problem for property owners. That's why the only true solution is professional mold removal.
As soon as you suspect mold, call 911 Restoration. Whether it's a mold inspection or full mold remediation, your problems are taken care of by our technicians. Get the Fresh Start you need to breathe easy. Call us at (913) 227-4578 and see how we can help.

Mold Removal
Successful mold removal requires a comprehensive and deliberate effort by trained professionals. At 911 Restoration, our technicians have honed and perfected their mold remediation process thanks to a combination of experience and training. Whether its mold decontamination or mold testing everything is taken care of by our technicians.
Before unloading the equipment, we start with a visual mold inspection. Our inspection helps us determine how far the mold has spread and the best way of approaching the mold without disturbing the mold colony. Once the inspection is complete, we have our action plan in place and are ready to execute our process.
Containment is the key with all mold. We accomplish this with the latest containment measures and vapor barriers to prevent the mold from spreading any further than its current location. Once contained, it's time for mold decontamination. With industrial cleaners and detergents we kill the mold spores to ensure it's prepped for the actual mold removal. This also serves to sanitize the area making it safe for inhabitants. During mold removal, we also handle any water damage restoration that may be needed to get the property back to good as new.
Call 911 Restoration for your mold remediation or mold inspection needs. Don't wait to get the Fresh Start you need to move forward. Call us at (913) 227-4578.
Mold In Basement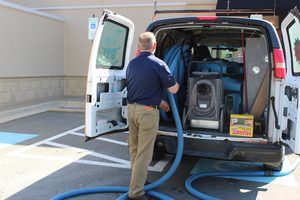 The basement is naturally dark and regularly damp. Two things that only serve to make mold growth even easier. That's why mold in the basement is so common. With mold in the basement or any other dark room, nothing less than full mold remediation is needed to address the problem. The process becomes trickier the longer it goes untreated.
Mold can become toxic mold if given enough time or if exposed to enough contaminants. One of the most toxic is black mold. Black mold actually causes organ shutdown and even death in some cases. That's why we offer mold sampling and testing services for our Kansas City customers.
Your health and well-being is a serious matter. That's why we go the extra mile by offering a second mold decontamination in severe cases. Nothing less than 100% mold removal and neutralization is acceptable for our technicians. This also serves to ensure the mold can't come back in a couple of months.
Got mold or suspect that you do? Call 911 Restoration immediately for your mold remediation needs to get the Fresh Start you can depend on. Call us at (913) 227-4578.

Servicing the cities of Archie, Baldwin City, Basehor, Belton, Blue Springs, Bonner Springs, Buckner, Bucyrus, Camden Point, Clay, Clearview City, Cleveland, Creighton, De Soto, Dearborn, Drexel, East Lynne, Easton, Edgerton, Edwardsville, Eudora, Excelsior Springs, Farley, Fontana, Fort Leavenworth, Freeman, Garden City, Gardner, Grain Valley, Grandview, Greenwood, Harrisonville, Hillsdale, Holt, Independence, Kansas City, KS, Kansas City, MO, Kearney, Lansing, Lawrence, Leavenworth, Leawood, Lecompton, Lees Summit, Lenexa, Levasy, Liberty, Linwood, Lone Jack, Louisburg, Mapaville, Mission, Missouri City, Morse, Mosby, New Century, Oak Grove, Olathe, Osawatomie, Overland Park, Paola, Peculiar, Platte City, Pleasant Hill, Prairie Village, Raymore, Riverside, Shawnee, Shawnee Mission, Sibley, Smithville, Spring Hill, Stilwell, Strasburg, Tonganoxie, Waldron, Weston, and surrounding areas.