Safe, Effective Disaster Restoration in East Lynne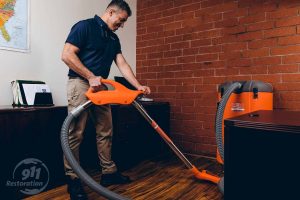 As a property owner in East Lynne, you're familiar with tornados, harsh winters, and long, hot summers. Unfortunately, these events can destroy the hard work you've put into your home or business, and they always seem to happen at the worst times. When your building suffers damage, it disrupts your life and puts stress on you. Even worse, without the right company on your side, restoration can take too much time or cost too much money.
If your building in East Lynne needs water extraction after a storm, mold inspection after burst pipe, professional sanitization, or any other type of repairs, you shouldn't have to navigate restoration alone.
At 911 Restoration, we're a national brand with over 30 years of experience. Our IICRC certified experts handle fire damage restoration, mold remediation, water cleanup, and everything in between. One of our friendly staff is available 24/7/365 to help with your property, and because our Kansas City branch is locally operated, we understand the needs of East Lynne owners just like you. We offer free visual inspection (for property owners only), and one of our experts promises a 45 minute ETA to your door after you call us.
When an accident or emergency leaves you in need of property restoration, you need help fast. The longer you wait, the worse the problem gets. When you need soot cleanup after a fire or water extraction after an emergency, give us a call immediately.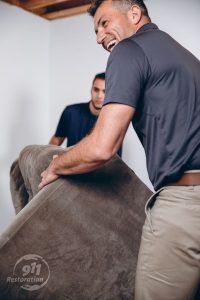 Mold and Water Damage Inspection in the Kansas City Metro Area
When you need a professional water cleanup company, look no further than 911 Restoration of Kansas City Metro. If you have a pipe burst or an appliance malfunction and water is flooding your property, one of our experts will be there fast to contain the problem. We fix leaks, remove soaked carpeting, and inspect for mold. We remove excess water, then dry and dehumidify your property. If you need sanitization after a sewage backup, we handle that too. No matter what type of water damage you have, we're here to take care of restoration.
We're also a certified mold remediation company. When you need an inspection, we have mold specialists to answer your call. If you have an infestation, we promise mold removal that lasts. Our professional equipment effectively dries and disinfects all surface areas. No matter what type of problem your property has, call our experienced technicians at 911 Restoration of Kansas City Metro today.
The Customer is our Priority During a Challenging Time
Water or mold cleanup is stressful enough, but fire remediation is something no property owner wants to face. Fires don't just damage properties; they hurt lives.  After a fire, you shouldn't be faced with the stress of cleanup. That's where we come in.
If your commercial or residential property experiences a fire, we handle restoration every step of the way. From smoke removal to puffback cleanup, we'll make sure your building is safe and clean again in no time. By offering full-service fire removal, we give you and your property a fresh start. We know you've been through a tough time, and we're here to help. To get your life back after a disaster, call one of our friendly team members at 911 Restoration of Kansas City Metro today.