Effective Disaster Restoration in Bucyrus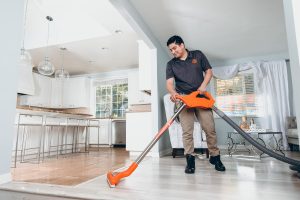 Whether you own a home or business, the last thing you want to face is an emergency. When tornadoes, floods, snow storms, or other weather-related disasters strike in Bucyrus, it can wreak havoc on your property. They can happen when you least expect it, leaving you unprepared and your property vulnerable. 
After a storm, water damage is a frequent problem for property owners. In addition to damaging furniture and building materials, water also promotes mold growth. Without proper water extraction, you might also find your facility in need of mold remediation. Disasters create countless problems for your property, but the repairs can be daunting. You're already under a lot of stress after an accident or emergency. The last thing you need is for restoration to cost a fortune or take up too much time. Delays keep you out of business longer, or prevent your home from being a safe space for you and your loved ones.
When you need fast and effective property restoration after a disaster, call our team at 911 Restoration. Our professional staff has over 30 years experience with water damage restoration, fire cleanup, mold removal, and so much more. We're open 24/7/365, because emergencies can happen any time, anywhere. Our Kansas City branch is locally owned and operated, so every member of our staff is trained to help Bucyrus property owners just like you. We offer free visual inspection for all property owners.  After you contact us, we guarantee an IICRC certified expert at your property within 45 minutes. When your building needs a fresh start, call 911 Restoration today.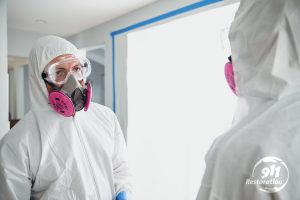 Mold Remediation and Water Cleanup When you Need it Most
When your property has water damage, our friendly workers handle clean up, whether it's flooding, a sewage backup, or a burst pipe. In addition to water removal, our company also provides mold inspection and removal. Our experts know where there's water, mold often follows. When left untreated, certain types of fungus create unhealthy air quality and unsafe conditions, so don't try to treat it yourself. Let one of our mold remediation experts take care of it for you.
Our staff follows CDC protocols, and we offer professional-level sanitization. After water or fire damage restoration, you can rest assured your property will be clean and safe in no time. To get complete, quality repairs for your property, call 911 Restoration today.
The Most Effective Fire Remediation in Bucyrus 
Fire damage is devastating for you and your property. Thankfully, our expert staff is here to take the stress off you. Whether your home needs soot cleanup after a fire, or your commercial property needs smoke restoration, we do it all.
When your property undergoes restoration, navigating insurance claims can add more stress. That's why our lwork with every type of insurance company. One of our knowledgeable agents can give you a free insurance consultation, so you won't get the runaround. Our goal is to offer you a fresh start after a difficult time. For expert restoration and customer service, call us today.