Mold Removal in Lenexa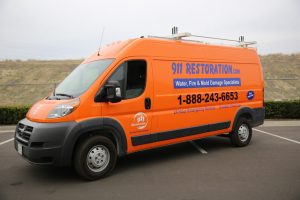 Property owners in Lenexa know that of the many issues faced, a mold infestation is one of the most frustrating. Thanks to its subtle and slow growth, mold can be around for months before being discovered. Throughout the months, organic materials like sheetrock and furniture get eaten away and residents may suffer from health issues they wouldn't have otherwise. Our IICRC certified technicians are ready 24/7/365 to handle every aspect of your mold remediation. Whether you reside in Lenexa or another city in the Kansas City metro area, we guarantee to arrive within 45 minutes of your call to work on your mold decontamination and mold removal.
Reducing the likelihood of a severe mold growth problem is much easier once you're aware of the signs. Some of the most common signs of mold are:
Rotting wood

Crumbled drywall

Visible mold

Breathing problems

Headaches

Persistent cough

Stale odor
Cleaning the mold by yourself is a mistake even if the affected area is small. Mold can't be killed by normal cleaners and cleaning methods. Instead, all that happens is the mold spores become agitated, and spread through the air to new previously unaffected areas on the property. That's why the only viable solution is a professional mold remediation when mold is discovered.
As soon as you suspect or notice mold, call 911 Restoration. We'll make sure you're taken care of from mold inspection to mold cleanup. Get the Fresh Start you deserve.
Mold Removal Companies
Any mold removal company can get the job done. However, it takes a special mold removal company to get the job done correctly without fail every time. Over the years we have combined our training and experience to hone our mold remediation process to perfection. Everything from mold inspection to mold removal is expertly handled in the most effective and efficient manner possible for our Lenexa residents.
Before doing anything else, we perform a visual mold inspection. This inspection helps us determine how far the mold has spread, the extent of the damage, and how best to proceed with your mold remediation. Once we complete the inspection, we develop an action plan for your approval. Upon approval, we get to work.
The next step is containment. We contain the mold growth with the latest containment measures including vapor barriers. After containment is secured, we can safely perform our mold decontamination process. This step is accomplished with industrial cleaners and detergents formulated for mold specifically. After the spores are neutralized we can begin the mold removal process. During this process, we also address any necessary water damage restoration to ensure the mold can't make a return appearance.
Call 911 Restoration as soon as you suspect mold. The quicker you act, the quicker you get the Fresh Start you need. We'll be there within 45 minutes for our Blue Springs and surrounding Kansas City metro area customers.
Mold In Basement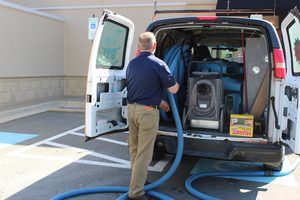 Mold in the basement is especially troublesome for a couple of reasons. First, the basement is naturally dark and damp making it practically ground zero for a mold infestation. This allows mold to grow quicker than normal and spread further at the same time. Second, the water usually comes from the pipes running through the basement, meaning it contains contaminants ranging from dirt to raw waste. With contaminants, the mold can become toxic mold. Either way, nothing less than full remediation will get your basement back to normal.
Toxic mold is dangerous and must be handled with care. It can cause organ shutdown and even death depending on the person's response and how long the mold was left alone. To combat toxic mold, we are extra vigilant with containment and utilize a two-phase mold decontamination process. Once before the removal, and once after mold removal. We take your health seriously and refuse to cut corners so we go the extra mile in this case. Once the mold removed, we make any necessary repairs so the mold can not return and you can remain healthy.
Call 911 Restoration for your mold cleanup and mold decontamination. Get the Fresh Start you can depend on.
Servicing the cities of Archie, Baldwin City, Basehor, Belton, Blue Springs, Bonner Springs, Buckner, Bucyrus, Camden Point, Clay, Clearview City, Cleveland, Creighton, De Soto, Dearborn, Drexel, East Lynne, Easton, Edgerton, Edwardsville, Eudora, Excelsior Springs, Farley, Fontana, Fort Leavenworth, Freeman, Garden City, Gardner, Grain Valley, Grandview, Greenwood, Harrisonville, Hillsdale, Holt, Independence, Kansas City, KS, Kansas City, MO, Kearney, Lansing, Lawrence, Leavenworth, Leawood, Lecompton, Lees Summit, Lenexa, Levasy, Liberty, Linwood, Lone Jack, Louisburg, Mapaville, Mission, Missouri City, Morse, Mosby, New Century, Oak Grove, Olathe, Osawatomie, Overland Park, Paola, Peculiar, Platte City, Pleasant Hill, Prairie Village, Raymore, Riverside, Shawnee, Shawnee Mission, Sibley, Smithville, Spring Hill, Stilwell, Strasburg, Tonganoxie, Waldron, Weston, and surrounding areas.