Mold Removal in Blue Springs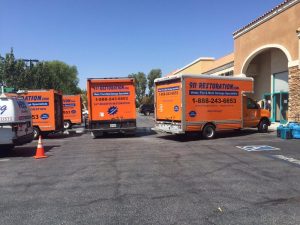 Being a property owner in Blue Springs comes with a lot of responsibility. One of those responsibilities includes staying vigilant against property damage. However, despite best efforts, mold can sneak past you and grow for a long period of time. Over time, mold eats away at the organic materials on the property like walls and furniture. In addition, health problems can occur in otherwise healthy people. That's why our IICRC certified technicians are ready 24/7/365 to handle your mold remediation needs. Whether you live in Blue Springs or another city in the Kansas City metro area, we'll arrive within 45 minutes to work on your mold removal and mold decontamination.
Once you know the signs of mold it's much easier to keep the property protected against a mold infestation. The most common signs of mold are:
Rotting wood

Crumbled drywall

Visible mold

Breathing problems

Headaches

Persistent cough

Stale odor
Don't try to clean the mold by yourself. Regular cleaning methods only exacerbate the problem instead of fixing it. Instead of being eliminated, the mold spores actually become airborne and spread to new areas on the property. This is why nothing less than professional mold remediation is needed to get the property back to good as new.
If you suspect mold or notice mold growing, call 911 Restoration immediately. Everything from mold inspection to full mold cleanup is available for our Blue Springs customers. Get the Fresh Start you need to breathe easier.
Mold Removal Companies
As your mold removal company, we know that successful mold remediation requires an effective and comprehensive approach. That's why we have taken our years of experience and training and developed a perfected mold removal process that accounts for everything from mold inspection and mold decontamination to mold cleanup and mold removal.
Our first step is the visual mold inspection. Without this step, we can't determine how far the mold has spread, if its potentially toxic, and what's needed to keep it contained while we work on the mold removal. After we have the answers to those questions, we can develop an action plan tailored to your situation.
No matter what, there are three important things that must happen during mold remediation. They are containment, decontamination, and removal. We contain the mold by using the latest containment measures including vapor barriers. After we have contained the mold, we can safely neutralize the mold spores with our mold decontamination process. Once that is complete, we can proceed with mold removal and any water damage restoration needed to get the property back to good working order.
Call 911 Restoration as soon as you suspect mold. The faster you act, the faster you get the Fresh Start you need. We'll arrive within 45 minutes whether you live in Blue Springs or another city in the Kansas City metro area.
Mold In Basement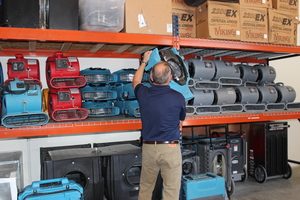 Mold in the basement is common thanks to its naturally dark and damp environment. The numerous pipes are hot spots for leaks or pipe bursts causing mold growth problems for property owners. Regardless of how the moisture gets into the basement, the fact remains that full mold remediation is necessary to make the basement serviceable again.
When left alone for too long or exposed to contaminants in the water, mold can become toxic mold. One of the most dangerous of these is black mold. Black mold causes organ shutdown and in some cases even death. That's why we offer mold testing services when toxic mold is suspected. In addition to donning hazmat gear, we also provide a two-phase mold decontamination process to ensure not a single mold spore is left alive. Once that is done, we perform our mold removal step along with water damage restoration. 
Everything from mold inspection to mold remediation is a phone call away. Call 911 Restoration for the Fresh Start you need to get back to good as new.
Servicing the cities of Archie, Baldwin City, Basehor, Belton, Blue Springs, Bonner Springs, Buckner, Bucyrus, Camden Point, Clay, Clearview City, Cleveland, Creighton, De Soto, Dearborn, Drexel, East Lynne, Easton, Edgerton, Edwardsville, Eudora, Excelsior Springs, Farley, Fontana, Fort Leavenworth, Freeman, Garden City, Gardner, Grain Valley, Grandview, Greenwood, Harrisonville, Hillsdale, Holt, Independence, Kansas City, KS, Kansas City, MO, Kearney, Lansing, Lawrence, Leavenworth, Leawood, Lecompton, Lees Summit, Lenexa, Levasy, Liberty, Linwood, Lone Jack, Louisburg, Mapaville, Mission, Missouri City, Morse, Mosby, New Century, Oak Grove, Olathe, Osawatomie, Overland Park, Paola, Peculiar, Platte City, Pleasant Hill, Prairie Village, Raymore, Riverside, Shawnee, Shawnee Mission, Sibley, Smithville, Spring Hill, Stilwell, Strasburg, Tonganoxie, Waldron, Weston, and surrounding areas.