Fast and Effective Water Damage Restoration in Creighton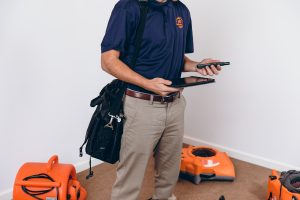 Because you own property in Creighton, you're used to hot, humid summers and severely cold winters. Unfortunately, rain, humidity, and snow all affect your property in negative ways. Heavy snowfall can stress your roof. Constant rain causes leaks and rots your building materials. Too much humidity leaves your property in need of mold remediation.
When your commercial building or home has excess water, it damages everything it touches and creates unsanitary conditions. Water destroys wood, carpet, and drywall, not to mention furniture and other irreplaceable items. Without proper water extraction, mold can grow inside your walls or ceiling. Water from a burst pipe or sewage backup floods your property with dirty water, leaving germs and bad smells. 
 Water removal isn't enough. You also need the damaged materials repaired, your property dehumidified and professionally sanitized, and a mold inspection and possible remediation. If you're struggling to figure out which water cleanup company to use, or worry about the cost of a certified mold remediation company on top of that, you're not alone. Disaster restoration can take months, cause tons of stress, and cost a fortune for property owners. Thankfully, there's a solution.
911 Restoration of Kansas City Metro services Creighton and other cities in the region for water damage restoration, mold removal, and more. 911 Restoration is a national brand with over 180 locally owned and operated branches. Our Kansas City Metro branch is tailored to meet the needs of Creighton owners just like you. We have over 30 years of restoration experience, and we're open 24/7/365, because disasters can strike at any time. As soon as you call one of our agents, we'll have a friendly, IICRC certified professional at your door within 45 minutes. 
For effective water damage restoration and so much more, call 911 Restoration today.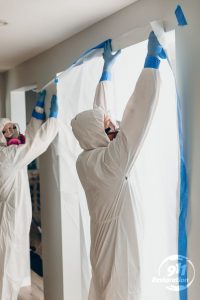 Mold Removal from Professionals you can Trust
No matter what type of property you own, mold is always a threat. Once an infestation starts, it's hard to stop. Humidity and poor air circulation are prime conditions for mold to thrive. Soon, it starts to eat away your floors and walls. A musty smell lingers. Your building's inhabitants are sneezing, coughing, or feeling dizzy.  It's a nightmare for you as the owner.
When your Creighton building needs mold cleanup, it puts everyone's health at risk. Left untreated, mold can do serious damage to your home, or even put you out of business. 
Trying to take care of remediation yourself might just make your mold problem worse. Instead, let our experienced team at 911 Restoration handle your property's mold decontamination from start to finish. One of our professionals will do a free visual inspection, and if we find mold, we guarantee a safe, fast removal. For remediation you can trust, call our mold experts at 911 Restoration.
When it Comes to Fire Damage Restoration, You're not Alone
A fire is one of the worst disasters a property owner can experience, and restoration is a nightmare. After a fire, your property could have water damage or need soot removal or puffback cleanup. Thankfully, 911 Restoration handles it all. When you need restoration after a fire, our friendly staff knows you've been through a traumatic time. That's why we offer all our customers a fresh start. We don't just want to repair your property; we want to get it in its best condition possible. For smoke removal and all your fire remediation needs, call 911 Restoration.