Water Damage Restoration in Paola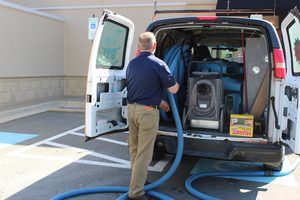 Property owners in Paola know they need to watch out for any kind of property damage, but especially water damage. Water damage can strike at any time from a nearly unlimited number of sources. Everything from a leak under the sink to a pipe burst can cause significant water damage. When this occurs, only a full water damage restoration will get the job done. Our IICRC certified technicians are ready to help with your water damage restoration and mold remediation needs 24/7/365. Whether you live in Paola, Garden City, or another city in the Kansas City metro area, you can count on the relief you need within 45 minutes of your call.
It only takes 24 hours for standing water to start producing mold. The longer it takes to address the water levels, the more the mold contamination can grow and spread to other parts of the property. For this reason alone, prompt water damage restoration is a necessity. The faster the water damage restoration is completed, the lower the chance of needing mold removal or mold decontamination services.
Call 911 Restoration for everything from mold inspection to full water damage restoration. Don't wait to get the Fresh Start you need to move forward.
Water Restoration
Water restoration seems simple enough on the surface but is actually a complex process that requires trained and certified professionals like the IICRC certified technicians at 911 Restoration. Our technicians deliver a perfected water damage restoration process thanks to a combination of years of experience and ongoing training. Before unloading any equipment, we take the time to perform a visual inspection. This inspection lets us discover the extent of the water damage and learn if mold has already begun growing. After the inspection, we can put together an action plan. 
Once the action plan is approved, we move on to our water extraction and drying process. By using the latest water extraction equipment and commercial dryers we can ensure the property gets completely dried out the first time. We double check our work by using infrared cameras that detect wet spots that would otherwise go unnoticed by the eyes alone. This additional step ensures we're not making a return trip two months later to perform mold remediation services. If mold was already discovered, we will provide mold removal services in addition to our water damage restoration service.
Part of our process involves making necessary repairs to get the property back to good as new. We fix everything from the source of the water damage to installing new sheetrock for our Paola customers as part of a comprehensive approach to emergency restoration.
If you suspect mold or notice water damage don't hesitate to act. Call 911 Restoration immediately to get the Fresh Start you need within 45 minutes to move past the water damage emergency. 
Flood Restoration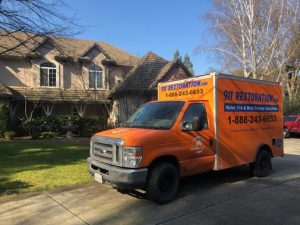 Flooding on the premises happens more than owners would like thanks to the many opportunities for it to occur. One of the most common examples of flooding is a flooded basement. This is thanks to the numerous pipes that run through the basement. For one reason or another, a pipe burst can happen at any time. When that occurs, the water released is contaminated with either dirt and debris or raw waste depending on the kind of pipe that bursts. Regardless, the only solution available is flood cleanup. Our technicians are prepared and qualified to handle every aspect of the flood cleanup from start to finish.
With flood cleanup, decontamination is necessary to sanitize the area. In many cases, mold grows quicker than normal and as a result, mold decontamination is also needed to make the property safe for the inhabitants. Once sanitized, we can proceed with our water extraction and drying process. This step is the same as it is with our normal water damage restoration process. The quicker this step can be performed the less likely you are to need mold remediation.
Call 911 Restoration for all of your emergency restoration needs. Don't wait to claim the Fresh Start you deserve.
Servicing the cities of Archie, Baldwin City, Basehor, Belton, Blue Springs, Buckner, Bucyrus, Clay, Clearview City, Cleveland, Creighton, De Soto, Drexel, East Lynne, Easton, Edgerton, Edwardsville, Eudora, Excelsior Springs, Farley, Fontana, Fort Leavenworth, Freeman, Garden City, Gardner, Grain Valley, Grandview, Greenwood, Harrisonville, Hillsdale, Holt, Independence, Kansas City, KS, Kansas City, MO, Kearney, Lansing, Lawrence, Leavenworth, Leawood, Lecompton, Lees Summit, Lenexa, Levasy, Liberty, Lone Jack, Louisburg, Mapaville, Mission, Missouri City, Morse, Mosby, New Century, Oak Grove, Olathe, Osawatomie, Overland Park, Paola, Peculiar, Pleasant Hill, Prairie Village, Raymore, Riverside, Shawnee, Shawnee Mission, Sibley, Smithville, Spring Hill, Stilwell, Strasburg, Waldron, and surrounding areas.