Water Damage Restoration in Lenexa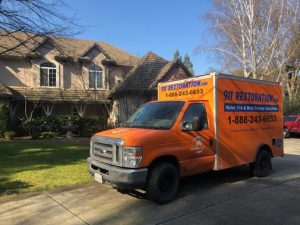 When your basement floods in the Lenexa area, it can be difficult to know what to do next. Whether it is caused by heavy winds or rain, or simply a burst pipe, a water damage emergency is never what any property owner expects. Luckily, there is a solution. 911 Restoration of Kansas City is available for any flood cleanups around the clock. The IICRC-certified technicians have years of experience in any water remediation, and are trained to handle any water damage emergency with care. All water removal calls in the Spring Hill area are answered within 45 minutes, so you never will be kept waiting for any important flood cleanup services. Call 911 Restoration of Kansas City for your own Fresh Start after a burst pipe today.

The "Fresh Start" Water Removal Company
You may be wondering what a Fresh Start means in regards to water removal services. The truth is that 911 Restoration of Kansas City has seen it all during their time providing water remediation services, and they believe in being optimistic through it all. They understand your emotional needs during a water damage emergency, and put you first. You'll feel supported during the entire flood cleanup by our trained techs.
Not only are the trained water remediation techs empathetic, but they are great at what they do. Their top priority is to provide quality water removal services in the event of any water damage emergency, but they go the extra mile to ensure that your property is safe and sound. The techs also offer emergency boarding services, so all of your property that is not damaged by the burst pipe will remain safe and dry.

In addition to providing top-notch water removal services, the technicians also go above and beyond to provide emergency roof repairs, leak repairs and more. From top to bottom, your property will be fully taken care of after a frozen pipe.

Not only do they provide great water removal services, the techs work to put your needs first throughout the entire flood cleanup process. They accept all forms of insurance for water cleanup services, so there is no need to worry. They will work with you to file your insurance claim after any burst pipe.

When it comes to flood cleanups after a frozen pipe, going with 911 Restoration of Kansas City is a no brainer. They offer a complete property restoration from top to bottom, and a free visual inspection for property owners is also offered. For the Fresh Start water removal company that puts you first, call 911 Restoration of Kansas City today.

Mold Removal When You Need It Most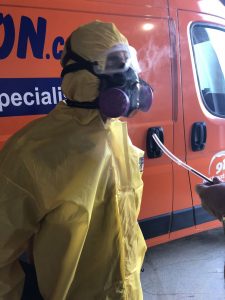 Mold is something that no property owner wants to think about, but if you are experiencing a flooded basement or crawl space in the Raymore area, you may need to look into it. The truth is that mold can shortly follow after any water damage emergency. In fact, it takes only 24 hours after a burst pipe for spores to sprout on the property.

Mold can deteriorate your property from the inside out. It attacks damp areas, like wood, and can lead to unfortunate side effects such as coughing, sneezing or headaches. Every area on the property can be impacted, from the shower to "popcorn ceiling". Luckily, 911 Restoration offers mold remediation services within 45 minutes of a call.

Not only are the mold removal services timely, they are comprehensive. The techs work with all types of mold, including the pesky "black mold" that can destroy your property. They'll use hazmat suits and will even use a third party laboratory to send out your spores for inspection if needed.

The deconomination techs will do everything they can do to ensure that your property in Easton is safe and dry. From top to bottom, they will make sure that your property is free of any excess moisture so the spores will not linger or return. They'll also help dehumidify your property and restore it to its natural state so it will be clean and dry in no time.

After a burst or frozen pipe in Lansing, the last thing you want to worry about is mold. Luckily, the denomination techs also offer a free visual inspection for property owners only. The remediation techs will ensure that you're on your way to a Fresh Start in no time. Call 911 Restoration of Kansas City for the best mold removal services in the De Soto area today.

Servicing the areas of Archie, Baldwin City, Basehor, Belton, Blue Springs, Buckner, Bucyrus, Clay, Clearview City, Cleveland, Creighton, De Soto, Drexel, East Lynne, Easton, Edgerton, Edwardsville, Eudora, Excelsior Springs, Farley, Fontana, Fort Leavenworth, Freeman, Garden City, Gardner, Grain Valley, Grandview, Greenwood, Harrisonville, Hillsdale, Holt, Independence, Kansas City, KS, Kansas City, MO, Kearney, Lansing, Lawrence, Leavenworth, Leawood, Lecompton, Lees Summit, Lenexa, Levasy, Liberty, Lone Jack, Louisburg, Mapaville, Mission, Missouri City, Morse, Mosby, New Century, Oak Grove, Olathe, Osawatomie, Overland Park, Paola, Peculiar, Pleasant Hill, Prairie Village, Raymore, Riverside, Shawnee, Shawnee Mission, Sibley, Smithville, Spring Hill, Stilwell, Strasburg, Waldron and surrounding areas.