Water Damage Restoration in Pleasant Hill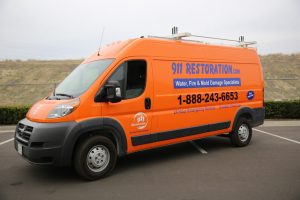 As a property owner in Pleasant Hill, you know that water damage is nothing new. It's all too common and requires immediate attention whether it's from a leaky sink or a pipe burst. That's why our IICRC certified technicians at 911 Restoration are ready to work on your water damage restoration or mold remediation 24/7/365. Time is of the essence with water damage which is why we guarantee to arrive within 45 minutes of your call whether you reside in Pleasant Hill, Grandview, or any other city in the Kansas City metro area.
Mold only needs water to be around for as little as 24 hours to begin growing. The longer the mold is left unchecked, the greater the spread of your mold infestation. That's why quick responsive water damage restoration is necessary. The faster the water is taken care of, the less likely you are to need mold removal and mold decontamination.
No matter if you need mold remediation, water damage restoration, or another emergency restoration service, the first step is to call 911 Restoration. We'll be there for our Pleasant Hill customers and any others in the surrounding Kansas City metro area within 45 minutes to bring you a much-needed Fresh Start.
Water Damage Company
As your water damage company, we know what it takes to deliver a successful water damage restoration, and if needed mold remediation at the same time. Our IICRC certified technicians have taken their years of experience along with their additional training and developed a streamlined and perfected water damage restoration process with guaranteed results. Our process starts with a visual inspection to determine the extent of the water damage and learn if mold is already present on the premises. Once the inspection is complete, we can put together our action plan.
After the action plan is approved it's time for our combination of water extraction and drying. The goal is nothing less than a completely dried out property. We make sure this goal is accomplished without fail by using the latest in water extraction and drying equipment. In addition, we follow up on our own work with infrared cameras to make sure not a single wet spot escapes our notice. During the extraction and drying process, we will also perform any needed mold remediation services including mold decontamination.
After the property is dried out, we can proceed with making repairs to the property. We put in new walls, cabinets, and repair the source of the water damage so that your property is truly good as new. That's part of our comprehensive approach to emergency restoration.
Call 911 Restoration today if you suspect mold or notice water damage. We'll be there to handle your water damage restoration and mold removal needs to deliver a Fresh Start you can count on.
Home Flooding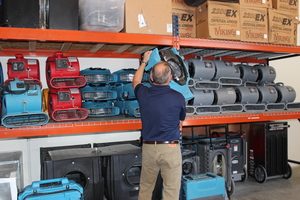 Home flooding occurs when the water level is exceedingly high and remains standing. One of the most common reasons for home flooding is a pipe burst, which usually causes a flooded basement. However, this can happen anywhere on the property and still demands nothing less than total flood cleanup. Floodwater contains dirt or raw waste depending on the pipe that bursts. Fortunately, our technicians are fully prepared and qualified to handle your flood cleanup no matter the contaminants present in the water.
With home flooding, both standard and mold decontamination is often necessary. This additional step ensures the property is sanitized and safe for the inhabitants after the water is removed. Depending on the circumstances a second decontamination may be performed after the water is removed from the premises. Our water extraction and drying process are still the same since the goal hasn't changed. We want the property dried out as quickly as possible to prevent any mold from developing. 
Call 911 Restoration if you need flood cleanup, mold inspections, or another restoration service. Our Pleasant Hill customers can count on us for the Fresh Start they need.
Servicing the cities of Archie, Baldwin City, Basehor, Belton, Blue Springs, Buckner, Bucyrus, Clay, Clearview City, Cleveland, Creighton, De Soto, Drexel, East Lynne, Easton, Edgerton, Edwardsville, Eudora, Excelsior Springs, Farley, Fontana, Fort Leavenworth, Freeman, Garden City, Gardner, Grain Valley, Grandview, Greenwood, Harrisonville, Hillsdale, Holt, Independence, Kansas City, KS, Kansas City, MO, Kearney, Lansing, Lawrence, Leavenworth, Leawood, Lecompton, Lees Summit, Lenexa, Levasy, Liberty, Lone Jack, Louisburg, Mapaville, Mission, Missouri City, Morse, Mosby, New Century, Oak Grove, Olathe, Osawatomie, Overland Park, Paola, Peculiar, Pleasant Hill, Prairie Village, Raymore, Riverside, Shawnee, Shawnee Mission, Sibley, Smithville, Spring Hill, Stilwell, Strasburg, Waldron, and surrounding areas.