Water Damage Restoration in Prairie Village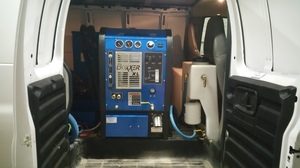 As a property owner in Prairie Village, you have to watch out for multiple types of property damage. The most common type is water damage. Water damage can build up slowly over time or be instantaneous. That's because water damage can happen with something as simple as a leak under the sink or as complex as a pipe burst. Regardless, the only viable solution is water damage restoration. Fortunately, the IICRC certified technicians at 911 Restoration are ready 24/7/365 to handle your water damage restoration and possible mold remediation needs. Whether you're in Prairie Village, Eudora, or another city in the Kansas City metro area you can count on receiving assistance within 45 minutes of making the call.
After 24 hours, the water still present allows a mold infestation to develop. The longer the mold has to grow, the further it spreads and colonizes throughout the property. Prompt water damage restoration is the key to preventing the need for mold removal services, which is why making the call quickly is necessary.
Whether its a mold inspection, full water damage restoration, or flood cleanup make sure to call 911 Restoration as quickly as possible. We'll arrive within 45 minutes to deliver a Fresh Start you can depend on.
Water Damage Company
When choosing a water damage company you need one that not only can get the job done but do so correctly and efficiently the first time. There are very few things more frustrating than having to call for restoration services twice for the same problem. At 911 Restoration, our IICRC certified technicians combine their training and years of experience to deliver a streamlined and flawless water damage restoration process that is guaranteed to provide the results you need the first time. We start with a visual inspection before getting to work. This inspection informs us how extensive the water damage is, if mold is already present, and what needs to be repaired once the water is removed.
After the inspection is complete, we can form an action plan and proceed. The first step is water extraction and drying. The goal is 100% dryness for the property, which means only the latest commercial extractors and dryers are used to get the job done. Without getting the property completely dry, you run the risk of needing mold remediation a couple of months later. We verify our work with infrared cameras to ensure we don't miss any wet spots during this step. If mold was found during the inspection, we also utilize our mold removal process at this point as well to deliver a truly comprehensive approach to our Prairie Village residents.
The final step is to repair what was broken. Everything from what caused the leak to the broken sheetrock that makes up the walls gets repaired or replaced during this step. For us, the job isn't done until your property is good as new or better as part of our Fresh Start mentality.
Call 911 Restoration as soon as you suspect mold or notice water damage. We'll be there within 45 minutes no matter where you are in the Kansas City metro area to bring you a Fresh Start.
Basement Flooding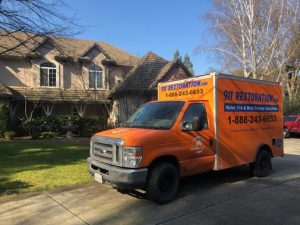 Basement flooding is the bane of all property owners. It results in excess amounts of water that is often contaminated and can be more complex to remedy than standard water damage restoration. The worst part is that it's more common than desired because of the potential for pipe bursts throughout the year. Since the water is likely to come from pipes, it means either debris or raw waste will be present in the water. That's why nothing less than full flood cleanup will get your basement back to normal.
Flood cleanup requires an extra step that regular water damage restoration doesn't have. Decontamination and possible mold decontamination is needed to sanitize and neutralize the affected area. Without sanitization, the water can't be safely navigated and can leave harmful bacteria that produces mold behind. After decontamination is complete, the water extraction and drying process can begin. This step is the same every time because the goal never changes. We strive for a completely dry property and won't stop until that's accomplished. 
Call 911 Restoration if you need mold decontamination or flood cleanup services. Don't delay in getting the Fresh Start you need to move on.
Servicing the cities of Archie, Baldwin City, Basehor, Belton, Blue Springs, Buckner, Bucyrus, Clay, Clearview City, Cleveland, Creighton, De Soto, Drexel, East Lynne, Easton, Edgerton, Edwardsville, Eudora, Excelsior Springs, Farley, Fontana, Fort Leavenworth, Freeman, Garden City, Gardner, Grain Valley, Grandview, Greenwood, Harrisonville, Hillsdale, Holt, Independence, Kansas City, KS, Kansas City, MO, Kearney, Lansing, Lawrence, Leavenworth, Leawood, Lecompton, Lees Summit, Lenexa, Levasy, Liberty, Lone Jack, Louisburg, Mapaville, Mission, Missouri City, Morse, Mosby, New Century, Oak Grove, Olathe, Osawatomie, Overland Park, Paola, Peculiar, Pleasant Hill, Prairie Village, Raymore, Riverside, Shawnee, Shawnee Mission, Sibley, Smithville, Spring Hill, Stilwell, Strasburg, Waldron, and surrounding areas.