Water Damage Restoration in Mission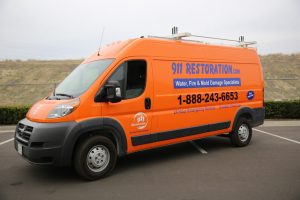 As a property owner in Mission, you know that water damage is all too common and can strike at any time. From the simple like a leaky appliance hose to the complicated like a pipe burst, water damage requires professional water damage restoration by IICRC certified technicians like the ones at 911 Restoration. We know that water damage restoration needs to happen quickly to prevent further problems like needing mold remediation, which is why our technicians are available 24/7/365 to get to work on your water damage concerns. Whether you reside in Mission, Gardner, or Peculiar we guarantee our arrival within 45 minutes of receiving your call.
Mold only needs water to exist for as little as 24 hours to start growing. The longer the property is damp, the more mold will grow and thrive. Prompt water damage restoration is the key to preventing the need for mold removal services. In case you suspect mold already exists, we offer mold inspection services in addition to our other emergency restoration services.
Everything from mold remediation to full water damage restoration is taken care of when you call 911 Restoration. Don't wait to get the Fresh Start you need. Call today and we'll arrive within 45 minutes for our Mission residents.
Water Damage Repair
Water damage repair is a process that requires great care and a concentrated approach to be done successfully. Our IICRC certified technicians at 911 Restoration have combined their years of experience and training to deliver a streamlined and perfected water damage restoration process that delivers guaranteed results every time. Before we get to work, we start with our visual inspection. The visual inspection helps us determine the extent of the water damage as well as other concerning factors like if mold is already present. Once the inspection is done, we develop our action plan to have you approve.
Once approved, we're ready for the water extraction and drying process. To accomplish this step, we only use the latest in industrial grade equipment to ensure every drop of moisture is dried out. Our goal is a completely dry property, which is verified with infrared cameras to pick up on damp spots that would otherwise go unnoticed by the naked eye. While drying the property out, we also make sure to perform any necessary mold remediation should mold already be present.
True water damage restoration requires actually repairing what was damaged. To that end, we provide repairs by fixing the source of the water damage, replace ruined sheetrock, and even install new cabinets if necessary. We don't stop until the property is back to good as new.
Call 911 Restoration for any water damage restoration or mold removal services needed. Whether you live in Mission, Paola, or another city in the Kansas City metro area we'll be there within 45 minutes to deliver your Fresh Start.
Home Flood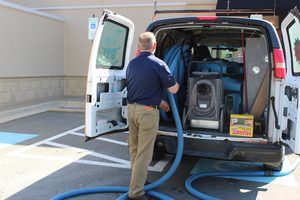 Sometimes, water damage is so severe that flooding occurs. With a home flood, the most common example is a flooded basement thanks to the numerous pipes ready to burst. Pipe bursts result in contaminated water filled with either debris or raw waste depending on what kind of pipe becomes damaged. This requires an additional step but is easily handled by our IICRC certified technicians making flood cleanup a snap.
Due to the contaminants present, both regular and mold decontamination are necessary before the job can be completed. Not only does the water need to be neutralized but so does the area left behind after extraction. Once sanitized, water extraction and drying can begin in earnest. The speed of your flood cleanup will directly affect how much mold decontamination and mold remediation you will need. 
Once sanitized, drying out the property is the most important task. We get the property completely dried out just like we would with our standard water damage restoration. We also provide insurance assistance to our customers in Mission if needed thanks to our experience working with multiple insurance companies.
Call 911 Restoration for all of your emergency restoration needs. Get the Fresh Start you need to move forward from your home flood.
Servicing the cities of Archie, Baldwin City, Basehor, Belton, Blue Springs, Buckner, Bucyrus, Clay, Clearview City, Cleveland, Creighton, De Soto, Drexel, East Lynne, Easton, Edgerton, Edwardsville, Eudora, Excelsior Springs, Farley, Fontana, Fort Leavenworth, Freeman, Garden City, Gardner, Grain Valley, Grandview, Greenwood, Harrisonville, Hillsdale, Holt, Independence, Kansas City, KS, Kansas City, MO, Kearney, Lansing, Lawrence, Leavenworth, Leawood, Lecompton, Lees Summit, Lenexa, Levasy, Liberty, Lone Jack, Louisburg, Mapaville, Mission, Missouri City, Morse, Mosby, New Century, Oak Grove, Olathe, Osawatomie, Overland Park, Paola, Peculiar, Pleasant Hill, Prairie Village, Raymore, Riverside, Shawnee, Shawnee Mission, Sibley, Smithville, Spring Hill, Stilwell, Strasburg, Waldron, and surrounding areas.