Water Damage Restoration in Harrisonville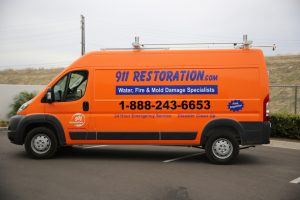 If you're a property owner in Harrisonville, you know that water damage happens too often and in multiple ways. Everything from a ruptured appliance hose to a pipe burst and ceiling leak can leave you needing water damage restoration services that you're unprepared for. Fortunately, the IICRC certified technicians at 911 Restoration are ready 24/7/365 to walk you through the process and handle every aspect of your water damage restoration and if needed mold remediation. Whether you live in Harrisonville, Peculiar, or another city in the Kansas City metro area you can count on us to arrive within 45 minutes of receiving your call.
Mold begins growing in environments that have remained wet for as little as 24 hours. The more time passes, the more of a mold infestation you're sure to have. That's why quick and comprehensive water damage restoration is necessary. It keeps you from needing mold decontamination or mold removal services on top of your water damage restoration.
If you suspect mold or notice water damage, call 911 Restoration immediately. We'll be there in 45 minutes to help you get a Fresh Start.
Water Damage Repair
Your water damage repair needs to be handled in a professional and efficient manner that delivers results that lasts. At 911 Restoration, we have taken our years of experience and added our training and IICRC certification to get a perfected water damage restoration process that delivers true and lasting results for our Harrisonville customers. Before unloading even one piece of equipment, we start with our visual inspection to determine the scope of your water damage and mold levels. Once that's done we have an action plan.
The next step in the process is our combination of water extraction and drying. During this step, we use nothing but the best and latest industrial grade extractors and dryers to get the property completely dried out. We don't believe in half efforts or taking things at face value, which is why we verify our efforts with infrared cameras to make sure not a single wet spot was missed. Taking this additional measure ensures that we don't have to come back two months later to perform mold remediation services. 
After drying out the property and addressing any mold removal needs, it's time for repairs to begin. We repair the source of the water damage so it doesn't happen again, but we also repair things like the sheetrock that makes up your walls and install any new flooring you purchase. All of this is done in an effort to get you and the property back to good as new.
Call 911 Restoration if you need mold remediation or water damage restoration. Don't wait to get the Fresh Start that's waiting for you.
Basement Flooding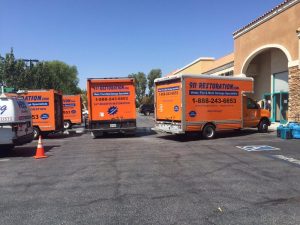 Flooding is the most damaging type of water damage due to high water levels. Basement flooding is the most common example thanks to all the pipes running through the room. Pipes are subject to pipe bursts and release contaminated water into the room. Depending on the pipe, this can be dirt or raw waste. Either way, nothing less than flood cleanup is needed to get the basement or any other flooded room back to good as new when this occurs. Our IICRC certified technicians are ready and able to handle every aspect of your flood cleanup with ease and guaranteed results.
Before removing the water, decontamination both standard and mold need to happen. We need to neutralize the area as well as any mold that has already grown thanks to the contaminated water. Once this is done, we can proceed with our standard water extraction and drying process. After the property is dried out, we can begin working on the necessary repairs. In some cases, we may provide a second decontamination if deemed necessary.
Call 911 Restoration if you need flood cleanup or mold decontamination services. Get the Fresh Start you need in 45 minutes no matter where you reside in the Kansas City metro area.
Servicing the cities of Archie, Baldwin City, Basehor, Belton, Blue Springs, Buckner, Bucyrus, Clay, Clearview City, Cleveland, Creighton, De Soto, Drexel, East Lynne, Easton, Edgerton, Edwardsville, Eudora, Excelsior Springs, Farley, Fontana, Fort Leavenworth, Freeman, Garden City, Gardner, Grain Valley, Grandview, Greenwood, Harrisonville, Hillsdale, Holt, Independence, Kansas City, KS, Kansas City, MO, Kearney, Lansing, Lawrence, Leavenworth, Leawood, Lecompton, Lees Summit, Lenexa, Levasy, Liberty, Lone Jack, Louisburg, Mapaville, Mission, Missouri City, Morse, Mosby, New Century, Oak Grove, Olathe, Osawatomie, Overland Park, Paola, Peculiar, Pleasant Hill, Prairie Village, Raymore, Riverside, Shawnee, Shawnee Mission, Sibley, Smithville, Spring Hill, Stilwell, Strasburg, Waldron, and surrounding areas.