Water Damage Restoration in Blue Springs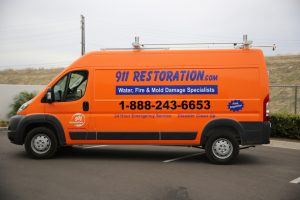 When the unexpected occurs in Blue Springs and a pipe bursts, it can be difficult to know what to do next. Whether it is caused by heavy winds or rains or simply a plumbing failure, the last thing you want to do is delay. Luckily, 911 Restoration of Kansas City Metro offers around the clock water restoration services. The technicians are IICRC certified with years of experience. They respond to all water removal calls within 45 minutes, and are available 24/7/365. The specialists operate with an optimistic attitude during the flood cleanup. They believe in a Fresh Start for both you and your property after a flooded basement. Call 911 Restoration of Kansas City Metro for your own Fresh Start after a frozen pipe today.
Water Remediation When You Need It Most
It can be difficult to prevent flooded basements in the Blue Springs area, due to the cold, windy and rainy weather. However, there are a few steps that you can take to prevent water damage emergencies in the future. For starters, take extra care to ensure that you are only flushing things that are meant to be flushed. That means keeping all cotton swabs and other cleaning objects out of the toilet as they can cause a backup. In addition, make sure to have a plumber out to regularly inspect the property and make sure everything is in working order. That will help to prevent any flooded basements in the future.

If the worst has happened and a pipe has burst on the Holt area, there's no need to worry. The remediation specialists operate with care, whether you're dealing with a leaking ceiling or a flooded crawl space. They offer many emergency restoration services, from boarding up services to roof repairs. No matter the water damage emergency, the flood cleanup techs have you covered.

A common question is whether flood cleanup services are covered in insurance. There is no need to be concerned, because the restoration techs accept all forms of insurance. They'll even work with you to find the best plan possible for your flood cleanup. A free visual inspection for property owners only is offered. Their goal is to ensure that you pay as little out of pocket for restoration services after a burst pipe as possible.

When a pipe bursts on your property, it can be difficult to know what to do next. Do the right thing for you and your property and leave the flood cleanup to the trusted water removal techs. Both you and your property will be treated to a signature Fresh Start in no time.

Removing Mold With Care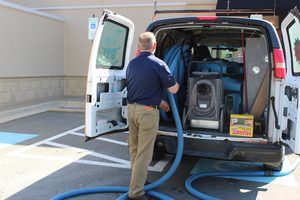 After a flood cleanup, the last thing on your mind may be mold. However, the pesky spores thrive in damp areas, such as a flooded basement. It's best to knock out the mold cleanup while our trained techs are still on the site. They use professional equipment such as infrared technology and hazmat suits to get the job done.
It may seem easy enough to try to remove the mold on your own as a quick way to save time and money. The truth is that can be incredibly hazardous not only to your property, but to your health. Mold can deteriorate your property from the inside out and cause unsightly things such as "popcorn ceiling". Not only that, but mold is terrible for your respiratory system. If you are experiencing asthma, allergies, or even just headaches after spotting mold in the shower in Buckner, call our trusted mold remediation specialists today.

Since mold can deteriorate the wood and other areas of your property, the remediation techs operate with care. They understand that having mold on the property in Freeman is stressful for any property owner, so they go above and beyond to put your emotional needs first during the mold inspection. They are so thorough with the inspection, that often third party lab testing is even used.

If you are looking for mold remediation services in Drexel, do yourself a favor and go with the IICRC certified techs with years of experience. They will get your property clean and dry after any burst pipe or flooded basement. The flood cleanup will be comprehensive, and the mold removal will follow shortly after. Call 911 Restoration of Kansas City Metro for your own Fresh Start today.
Servicing the areas of Archie, Baldwin City, Basehor, Belton, Blue Springs, Buckner, Bucyrus, Clay, Clearview City, Cleveland, Creighton, De Soto, Drexel, East Lynne, Easton, Edgerton, Edwardsville, Eudora, Excelsior Springs, Farley, Fontana, Fort Leavenworth, Freeman, Garden City, Gardner, Grain Valley, Grandview, Greenwood, Harrisonville, Hillsdale, Holt, Independence, Kansas City, KS, Kansas City, MO, Kearney, Lansing, Lawrence, Leavenworth, Leawood, Lecompton, Lees Summit, Lenexa, Levasy, Liberty, Lone Jack, Louisburg, Mapaville, Mission, Missouri City, Morse, Mosby, New Century, Oak Grove, Olathe, Osawatomie, Overland Park, Paola, Peculiar, Pleasant Hill, Prairie Village, Raymore, Riverside, Shawnee, Shawnee Mission, Sibley, Smithville, Spring Hill, Stilwell, Strasburg, Waldron and surrounding areas.