What is Gray Water? How to Deal With Gray Water Damage?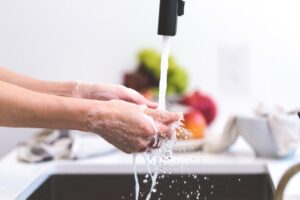 Dealing with water damage is one of the most stressful tasks a homeowner can experience, especially in Kansas City Metro, where the climate is rarely lauded as pleasant due to heavy rains, violent storms, and blinding blizzards during the winter. Therefore, water damage can be caused due to several reasons, like having a leaky roof, a pipe in the basement bursting, or the sewage system backing up.
However, there is another aspect of water damage that most people are unaware of: the types or categories of water that cause damage. While clean water and black water are at the extreme ends of the damage spectrum, gray water or sullage is usually the main suspect responsible for a water-related disaster in residential properties.
In this post, we'll share how gray water differs from clean and black water and how to deal with gray water damage.
Understanding Gray Water Damage and How it Differs from Clean Water and Black Water Damage
Gray water or sullage is the unsanitary water coming from multiple household sources, such as bathroom sinks, tubs, washing machines, garden hoses, and the kitchen. However, this water does not come into contact with feces or waste from toilets. Nonetheless, it still contains trace contaminants, such as dirt, hair, grease, chemicals, food, urine, laundry detergents, blood, etc. Therefore, it can cause moderate and serious diseases, such as typhoid fever, E. coli, cholera, and COVID-19, to name a few.
In contrast, clean water damage is caused by appliances or pipes carrying clean water, melting snow, air conditioning drainage, or rainwater. Although it's labeled as category 1, it can easily develop into gray water after 24 hours if left untreated. Blackwater damage is the most hazardous residential property damage to deal with as it contains solid organic matter, such as feces, urine, pathogens, parasites, heavy metal traces, oils, and other organic waste. The difference between gray water and black water is that sullage can offer some benefits. Although unsanitary for consumption, gray water can be used as a source of irrigation water for your garden as it contains nutrients that can act as fertilizers. You can also use it for construction, cooling, and other domestic purposes like sanitation after mixing with detergent and other chemicals.
How to Deal with Gray Water Damage
Every water damage problem is different and requires different tools, equipment, and expertise for remediation for gray water damage repairs and cleaning. However, one thing is for certain. Whether you're dealing with a broken pipe, overflowing tub, leaking washing machine, or leaks in the drainage, you need to call a home restoration service in Kansas City Metro to assess, contain, and minimize the damage using the proper tools and strategies.
Although taking care of small leaks and minor cracks might look like a DIY job, most homeowners that take this route often face problems in the long run, such as mold growth, corrosion, pest infestations, and multiple types of cosmetic issues, including stains. More importantly, homeowners don't know what kind of pathogens and health hazards they might encourage to grow in unreachable or neglected damp spaces.
To sum up,  hiring professionals to assess the damage can make sure both your health and finances are protected. However, for educational purposes, here's how to deal with gray water damage as per the Environmental Protection Agency (EPA) and the institution of inspection cleaning and restoration certification (IICRC):
1.    Extract Water and Dry the Affected Structure
The first step in dealing with sullage is removing it from every affected structure, such as flooring, drywall, furniture, furniture, appliances, etc., using a pump or two-way vacuum. You might have shut your water supply temporarily or avoid using the toilet or kitchen sink. You can open your windows and turn on the fans or rent out humidifiers/axial fans for drying.
2.    Get Rid of Porous Materials
The next step is to remove porous materials like drapes, insulation, carpets, and upholstery from your property. While you can salvage some of these things through cleaning and disinfection, you'll have to discard some materials to prevent mold and pathogen growth.
3.    Cleaning and Disinfection
The next step is to clean all hard surfaces and equipment using commercially available cleaning agents. However, cleaning solutions aren't one-shoe-fits-them-all. You need to anticipate the type of contamination you're dealing with and use the proper solutions accordingly.
4.    Repairs
Repairs can range from simply drying and cleaning the space to replacing drywall, fixing the plumbing, and remediating mold. All processes require a specific skill set, tools, and equipment to be done correctly.
Expert Water Damage Repair Services – 911 Restoration of Kansas City Metro
At 911 Restoration of Kansas City Metro, we aim to help educate our clients and readers about the different types of water damage they can sustain in their properties and how to deal with gray water damage. Our team of restoration experts can thoroughly assess your plumbing and overall structure using the latest tools and equipment for leaks, cracks, rust, and other problems to take the required action and maintain its structural integrity. We also strictly adhere to IICRC standards, so you can rest assured that our cleaning and disinfection solutions are top-notch.
Feel free to call us for more information regarding our water damage repair services.